Dune buggies and diving:
PhD student Ciara Dooley talks about coastal research with the DUNEX Program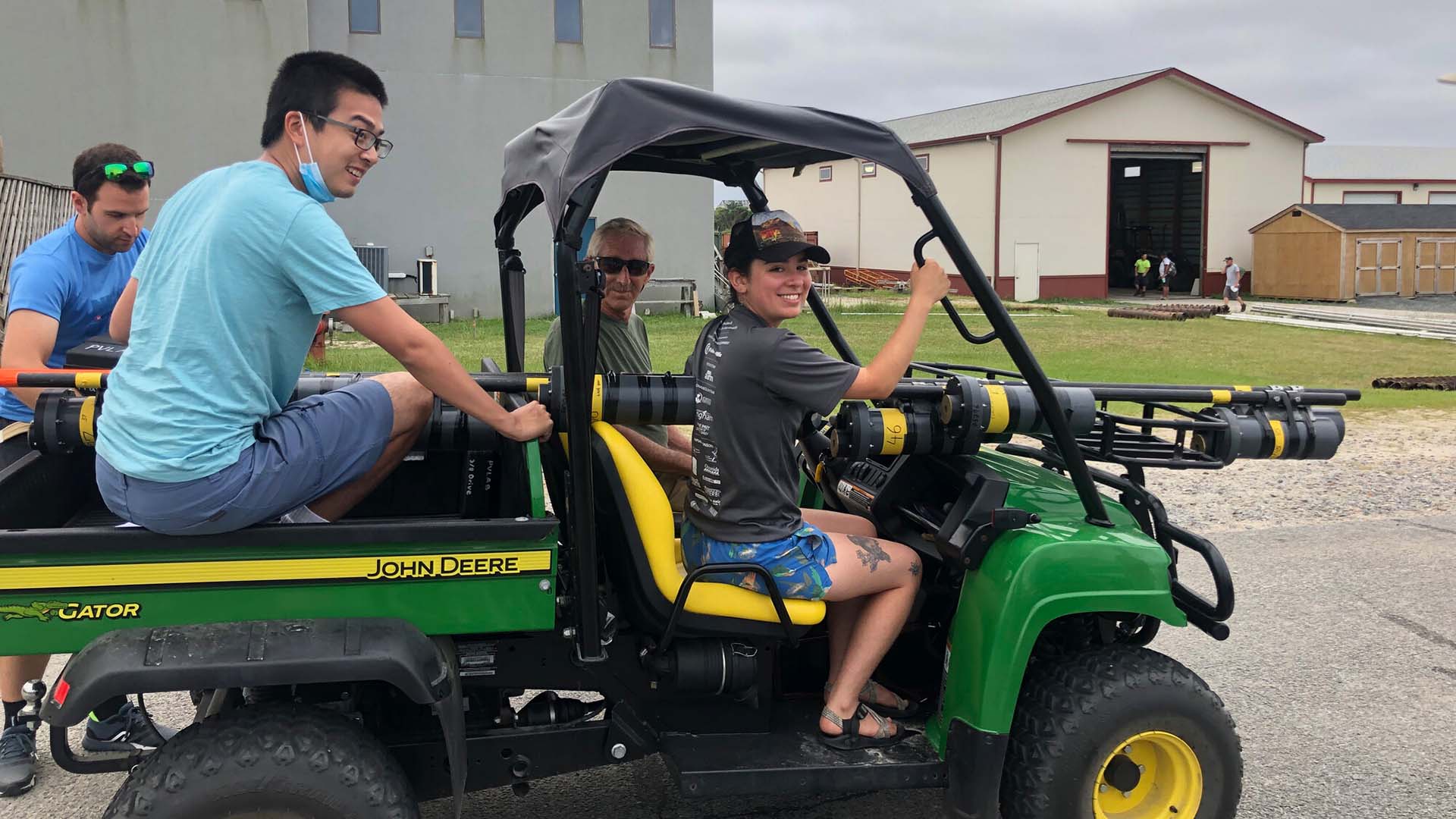 Estimated reading time: 4 minutes
Ciara Dooley is a PhD student in the MIT-WHOI Joint Program studying Applied Ocean Science and Engineering. Dooley recently spent three months working on a project known as DUNEX  in the Outer Banks of North Carolina with her research advisors, WHOI Scientists Dr. Britt Raubenheimer and Dr. Steve Elgar. DUNEX is a collaborative community experiment designed to study nearshore coastal processes during storm events.  
This interview is adapted from conversation Dooley had with the U.S. Coastal Research Program about her time working in the field with DUNEX this fall.  
---
This was your first fieldwork experience. What was it like? 
I helped install, troubleshoot, and maintain an assortment of sensors out in the field—my mechanical engineering background from undergrad definitely helped. I also have a SCUBA certification and was able to clean and maintain acoustic doppler velocimeters (ADVs) and acoustic doppler current profilers (ADCPs) throughout the experiment. 
I learned so much about how to successfully gather data during DUNEX, and I know this knowledge is going to help me in my future research and prepare me for many future field experiments to come. It's been amazing to see where the data I work with comes from, gather more information for my future research, and to be surrounded by so many experts in coastal science. There's been nothing better than being at the beach, observing an interesting change in waves, current, or bathymetry, and being able to turn and ask an expert dozens of questions about the processes occurring in front of me.
What got you interested in coastal science?
I first studied coastal science as an undergraduate at UC San Diego during an environmental fluid mechanics course I was taking. I connected with the professor teaching, Dr. Geno Pawlak, and became involved with research on coral reef roughness as an undergraduate in his lab group. As a senior, I had a capstone design project working with Dr. Jules Jaffe at the Scripps Institute of Oceanography to design a bio-inspired autonomous underwater vehicle. These experiences showed me how much coastal science has to offer: meaningful projects, technically challenging problems, and still so much science left to be discovered.  
After graduating from UC San Diego, I turned away from coastal science to pursue a career at Northrop Grumman working on aircraft radios. After three years, I realized I missed having an environmental focus in my work as well as the constant learning required by research, so I applied to graduate school. I was able to join the PVLAB at WHOI, which has led me to DUNEX and the continuation of my career in coastal science. 
My goal for my future career is to find myself in a role where I am continuously learning and surrounded by others passionate about ocean science.
What types of data were the instruments collecting, and how do you expect the information to be used?
At DUNEX, my experiments focused on gathering high-spatial resolution surface current measurements by observing the motion of naturally occurring foam on the ocean's surface. My lab group installed several cameras on top of a tower at the US Army Corps Field Research Facility and recorded a month's worth of images that I will process using different algorithms. From this, I'll get surface current measurements every 3 meters across several hundred meters of coastline. I'll use these estimates along with information collected by sensors in the water, like the ADVs and ADCPs I mentioned. In my research, these measurements serve as the "ground truth", meaning that they are known to be highly accurate and reflect the true currents. I use this information to assess the accuracy of the current estimates I generate using the foam-tracking technique and image data. The combination of these techniques allows for extraordinary observations of nearshore currents. With it, I hope to learn more about small-scale coastal processes like rip currents, which contribute to sediment, pollutant, and biological transport in the coastal ocean.
What advice do you have for people interested in coastal science?
Get involved. Even if you think you don't have the skills required, it doesn't hurt to ask. Every scientist I know is so excited to share and talk about their work, just reach out. Any internship, research position, coursework, or seminar you can find will build your knowledge and skills, and help you map out your future. It doesn't have to be a straight line—I spent several years working in an unrelated field before returning to my interest in coastal science. 
It is also important to inform future generations about the challenges currently facing us. As a kid, I was fortunate to have had field trips and other opportunities to talk with scientists at the Scripps Institute of Oceanography, and those experiences planted seeds to a career in environmental science. Seeing engineers and scientists working on environmental problems gave me some great role models to aspire to. 
Dooley's work is funded in part by the NDSEG Fellowship.