Adapt or retreat:
No solution is off the table to prepare for sea level rise in Woods Hole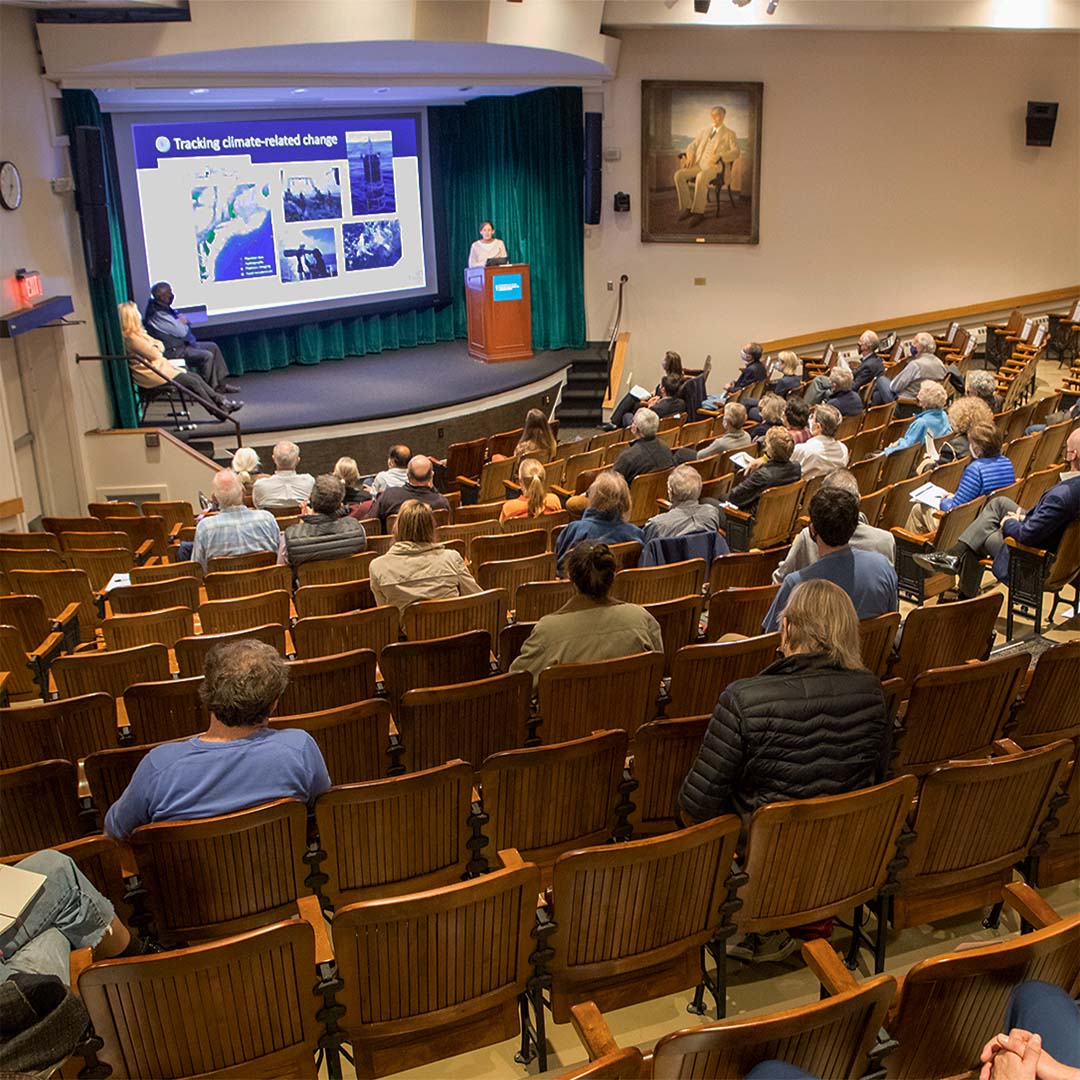 Estimated reading time: 2 minutes
With three major marine science institutions and over a century of research, the quaint Cape Cod village of Woods Hole may have a unique advantage in dealing with sea level rise, say government officials and scientists at a recent symposium.
On November 18, 2021, scientists from WHOI, NOAA Fisheries, and the Marine Biological Laboratory (MBL) assembled with town planners at MBL's Cornelia Clapp Auditorium for the second part of a symposium focused on strategies to cope with rising seas. The event, hosted by local action-group, Resilient Woods Hole, drew a crowd of 273 virtual and in-person attendees from the Woods Hole-Falmouth community. Audience members engaged panelists with questions ranging from how citizens should prepare for the impacts of sea level rise, to broader infrastructure changes that will fortify Cape Cod for decades to come.
"We have major intellectual assets in Woods Hole that range from the public library and its historical collections, to the scientific laboratories and the Coast Guard base," says resident Joel Sohn. "If a storm with the destructive power of Hurricane Sandy struck our region, what is the likelihood that any of them would remain?"
At a mean elevation of 19 feet, Woods Hole is indeed vulnerable to encroaching tides. By 2050, experts predict an average of 2.5 feet of sea level rise with the highest high tides potentially reaching 4.5 feet. This could compromise more than 80% of the WHOI's village campus assets without adaptation measures, according to a report from the Woods Hole Group. 
The event also became an opportunity for local scientists to emphasize the benefits their coastal observatories bring in forecasting the rising tides.
"At the Oceanographic we currently have more than 800 active projects and over half of them have to do with climate," says WHOI Associate Director of Research Strategy, Carol Anne Clayson. "We also have observatories like the Martha's Vineyard Array, which specifically tracks changes at the air-sea interface."
Still, a recent assessment by the Woods Hole Group identified prominent town arteries, like Millfield Street and Gardner Road, in Falmouth as major floodways that could sever connections between the village of Woods Hole and the rest of the town after expected increases in sea level. That may mean some residents could be urged to relocate as vulnerability assessments continue. 
"Retreat is not off the table in some areas," says Woods Hole Group environmental consultant Joe Famely.
Current proposed solutions include reconstruction of WHOI's Iselin Dock. The Complex for Waterfront Access To Exploration and Research (or CWATER) will elevate the institution's port to accommodate up to 4 feet of sea level rise. Other potential solutions include the use of deployable sea walls and buffers.
By collaborating with city and state officials, and agencies like the Cape Cod Commission, symposium organizers hoped to offer the community a holistic view of how Cape Cod is planning for sea level rise.

"The effects of climate change are inevitable," says director of the Marine Biological Laboratory, Nipam Patel. "Now more than ever, it's important we work together as a community to face the challenges that we have."