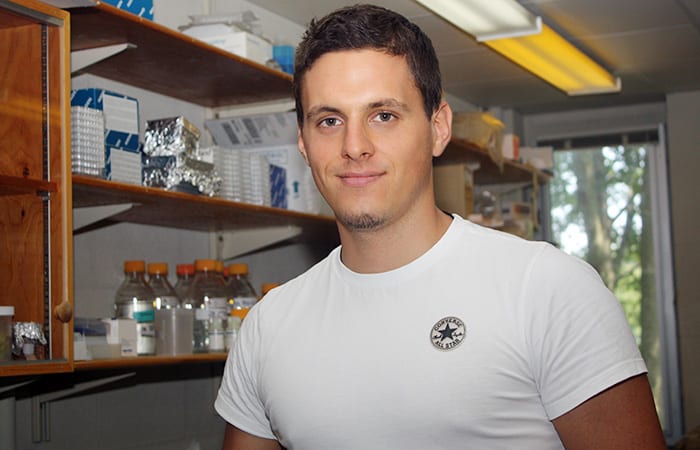 On the Trail of an Invader
SSF Filip Buksa uses DNA to trace an invasion
Anyone who knows Filip Buksa is likely not surprised that he decided to travel all the way to Woods Hole from the shores of Croatia for the summer. "Marine science came to me as continuing to work with what I love, and my family has always been fed by the sea, so I am a person who really feels like I need to give something in return," Buksa said of his interest in joining the Summer Student Fellows program at Woods Hole Oceanographic Institution (WHOI).
Back at home, Buksa studies marine biology and ecology at the University of Split, the second-largest city in Croatia, and he has spent much of his free time volunteering in labs at the Institute of Oceanography and Fisheries in Split. Although he enjoyed his previous lab work there, at WHOI Buksa sought out a project that would allow him to explore genetics.
Under the guidance of WHOI biologist Jesús Pineda and research associate Annette Frese Govindarajan in the biology department at WHOI, Buksa has spent the last couple of months analyzing the ecology and genetics of the intertidal barnacle Chthamalus fragilis. These barnacles are an invasive species on Cape Cod, and populations have been found spreading northward to Sandwich and Provincetown. Because they look much like native barnacles, they are not always noticed when they invade a new area.
Buksa plans to compare the DNA of barnacles from up and down the coast to figure out how the invasive species came to the Cape. He isolated and sequenced DNA from barnacles collected in various locations and ultimately constructed genetic trees to trace the northward movement of the invader.
Buksa hopes to incorporate his past and current studies to paint a larger ecological picture. "I do not want to be a pure molecular biologist locked in a lab pipetting and working on the computer, but I want to use it in order to understand the ecology of organisms," he said.
Even when Buksa makes it out of the lab, he doesn't end up too far from the water. As a member of the Croatian National Fishing Team, Buksa has won several world championships in both the angling and offshore categories. He also enjoys freediving, which is a form of deepwater diving that does not rely on the use of SCUBA gear.
After his upcoming senior year at the university, Buksa hopes to continue on to a Ph.D. program. "To continue working in marine science would just be another day of enjoying life."
Buksa and his research were supported by The C. Russell Feldman Fund.