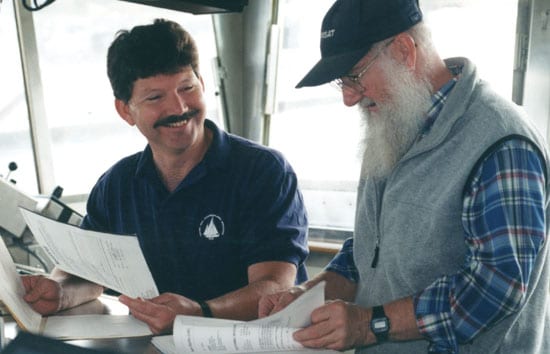 Of Sons and Ships and Science Cruises
A conversation with Capt. A.D. Colburn of the research vessel Atlantis
Woods Hole Oceanographic Institution (WHOI) has had an unbroken line of three ships named Atlantis that date to the Institution's founding in the early 1930s. Arthur D. Colburn III, better known as A.D., who was recently named master of the modern-day Atlantis, is continuing another tradition: His father, Arthur D. Colburn Jr. (Dick), was the last captain of the first Atlantis. A.D. himself spent 13 years as a mate on Atlantis II when the procedures for diving the submersible Alvin from a large research vessel were first being developed. Then he took the helm of R/V Knorr from 1995 until early this year. A.D. and Dick are two of many mariners who have worked their way up on WHOI ships, devoting their careers to the success of the Institution's seagoing operations.
Is there a seagoing tradition in your blood?
Yes, and also a WHOI tradition. My father's career, of course, was my most immediate influence. I have vivid memories of the crew of Atlantis stopping by the house. As a little kid in pajamas, I picked up on the camaraderie and mutual respect. It was obvious they were doing something they all liked, and they were pretty proud of it.
My mother's father, David Atwood, spent his professional life sailing for commercial enterprises. During family summers in Maine, we were always on the water. My mother also worked from 1945 to 1957 for geophysicist Brackett Hirsey at WHOI, where she met and married my Dad.
My wife Karen's family also has a maritime history, and she and several relatives have worked on the Institution switchboard. Her father Buddy Baker was supervisor in the WHOI carpenter shop. So she knew what she was getting into with me!
When did you make your first WHOI cruise?
I must have been about six or seven years old—my Dad took me along on the last Atlantis shipyard transit. A couple of years later, he took the helm of WHOI's small coastal vessel Asterias to spend more time at home with the family. Once when a WHOI scientist needed the boat in Casco Bay, Maine, but couldn't afford to pay for its transit, Dad bought the fuel and took my brother, my grandfather, and me along—Woods Hole to Somme Sound, Mt. Desert Island, with fog all the way. Mom and my grandmother drove up to collect the rest of us while Dad carried on with the science program.
A decade later, I was a cadet at the Massachusetts Maritime Academy in Buzzards Bay. Dick Edwards, who was then WHOI Marine Superintendent, arranged for me to fulfill part of my required "sea term" aboard Knorr. Capt. Emerson Hiller was a good mentor, and little did I know that I would one day be sitting in his chair.
Was that your goal when you were a cadet?
I thought I would follow the path of my Atwood grandfather, who graduated from Mass Maritime in 1920 and went on to commercial ship work. I tried it for a while, but the shipping industry was in a downturn at the time. So I would return to work on WHOI ships.
One summer, I faced a decision: Work for the Steamship Authority in Woods Hole parking cars on ferries or relieve as a second mate on Knorr. I went deep sea, and I've never regretted it.
Tell us about a memorable cruise?
To the Labrador Sea in 1997, with Bob Pickart as chief scientist. Our goal was to measure the sinking of cold, dense water in the Labrador Sea—a phenomenon that drives world ocean circulation and one that requires true winter weather. A lot of people thought the obstacles—the ice, the cold, the stormy weather—would be insurmountable and predicted the cruise would not turn out well. I came to it with more confidence because early in my career I had some experience working in the Labrador Sea for an oil company.
It was a very tough cruise, but we just worked at it real hard. We focused on the safety of the people aboard first and also keeping the ship out of harm's way. There was a constant watch for dangerous ice. We spent many hours chipping ice off the ship's superstructure with the wooden mallets we brought along for that purpose, with crew members clipped into safety lines on icy decks.
The ship and crew performed extremely well in some really nasty weather conditions. At the beginning of the cruise, we expected to spend as much as a fifth of the 47-day cruise hove to and unable to work, so we cautiously estimated we could make measurements at 60 to 80 stations. In the end, despite taking on everything the Labrador Sea could throw at us, we made more than 160 stations and brought home a fine data set for the scientific party.
You had an unexpected passenger on that voyage, didn't you?
That's true. Off Greenland, a snowy owl came aboard and took shelter under the bulwarks on the bow. The weather was rough, but when we got a calm day, we'd go out to the bow to give water to this owl hopping around out there, but the water froze quickly. We'd try to feed it fish or chicken, but that wasn't working. We had a Canadian oiler onboard who said, "I got some of those around the neighborhood, and we feed them bacon." Sure enough, it did like raw bacon.
After a few days, the bird was looking tired and snow began to build up on its feathers, so a couple of us protected ourselves with grinding masks and leather arm guards, threw a blanket over it, and moved it inside a van. Everyone was so interested in the owl that we had to limit visiting hours. It came all the way across the Labrador Sea with us, and we released it as we approached the Canadian coast.
Any other Knorr stories?
In 2001, we were off Somalia, and I truly believe we saw pirates out there. The scientists needed to stop do three measurements of the flow through the choke point between the horn of Africa and Socotra Island. We sighted a slow fishing-type vessel with no active fishing gear that set a course to intercept. We actually bluffed them and came to a screeching stop. They turned and headed for the coast, and we completed our scientific mission. I think it was that the Knorr has a certain "naval" look to it.
Every transit we've had up and down the Bosporus has been just amazing. It's gorgeous, exciting, and busy. The ship traffic is organized into alternating northbound and southbound convoys. There are ships all around you, a tenth of a mile away, with perhaps one overtaking on the starboard side as somebody else approaches on the port side.
On one cruise there, the scientists wanted to sample the very deepest, coldest, most dense water flowing from the Black Sea, and that meant we had to go into the center lane, so to speak. Well, they didn't find exactly what they were looking for. The scientists wanted to move further to port, into the deepest, middle part of the channel.
By this time, the southbound convoy is en route, and the pilot wants to know "What are you doing stopped in the middle of the Bosporus?" and alerts the coast guard. We did manage to get the samples and get out.
What are some of the major challenges of the job?
Keeping to timetables. Trying to fulfill the scientific mission, while balancing weather conditions and transit times to get to your next port. Convincing the chief scientist that we can't do just one more thing because the ship can't do 14 knots to make its scheduled transit time through the Panama or the Suez Canal on time. Sometimes it gets right down to the last hour!
Scientists have gone to great lengths to secure their limited, precious time at sea, and sometimes they say they would like to do something. I've found that once you've demonstrated a consistent desire to do things well to the best of your ability, if you look them in the eye and say, "No, it's unsafe or impractical," you won't get a contentious response.
What would you rate as your strengths as a captain?
Team building and mentoring are some of the things that I both enjoy and think I've had some success at doing. Fostering a positive learning atmosphere and supportive network in the small community aboard a ship.
There's a historic perspective of seafaring in which the deck department doesn't play nice with the engine department, and then in oceanography there's a third player in the scientific party. Maintaining an open dialogue between the deck, the engine room, and the scientists, it's possible to accomplish amazing things—and arrive on schedule at the next assignment. You know: "can do"— right up to the limits of safety and common sense. It allows everyone to work well together another day.
What are the biggest changes you've seen over your career?
Ship-to-shore communication is the major change. Going further back, my Dad would have said, "I remember leaving Woods Hole, maybe heading for Bermuda—you would be in single-side-band radio contact for a day or so and then lose it.  When you got to Bermuda, you could receive telexes through the agent, and then depart once again over the horizon, with no communication."
When I joined Knorr in the late 1970s, Capt. Hiller was a ham radio operator. He worked with Kent Swift in Falmouth, a guy named Bud Santos in Barnstable, and another contact on the West Coast to help those at sea keep in touch. People would line up outside the captain's cabin waiting to do the occasional ham-radio patch.
Now, with e-mail, we sometimes have "virtual" chief scientists in their laboratories onshore who can be in such tight contact with the ship that they can request that we change course or to try to close up on a certain feature. Recently, when we were working about 60 miles off the California coast, many aboard the ship were in cell phone range the whole time. E-mail also allows us to keep better in touch with our families
Is the seafaring lifestyle hard on the family?
Do you mean, "What would draw somebody to choose going to sea over a desk job?" You really need to be willing to spend the time away to gain significant blocks of time ashore. You're able to have six weeks or two months off straight, and that affords you opportunities with family and children that you can't do easily on a 9-to-5 job.
We had busman's holidays: We love to go boating. With my wife and two daughters, as infants in tiny lifejackets, we'd get out in Great Harbor in a skiff, or a little later in a little bigger boat go over to Tashmoo for a picnic.
My schedule may have not been optimum from many people's viewpoint, but from my perspective, it's worked out quite well, and from the input of my children, who are now 21 and 18. When I looked at a shore job about five years ago, they said, "What do you mean you're going to be home nights and weekends? But then you won't be captain." I took that as positive reinforcement of what I had chosen.
My wife Karen has obviously been key. Without her support, strength, and understanding, this career would not have worked out.
Did you ever consider doing anything besides going to sea?
A musician. That never panned out, but I always carry my guitar when I'm shipping.