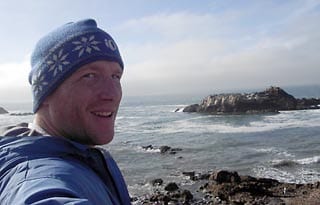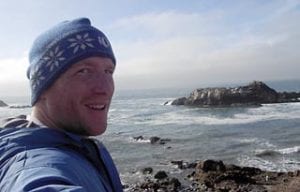 Hugh Powell grew up on a variety of Air Force bases and never
learned to stay put for very long. His father, a fighter pilot, and
mother, a proper English woman with a taste for fizzy drinks, raised
him and his siblings to sleep four to a tent and survive long, wet
hikes in Wales on little more than lemon-flavored candies. His father
also made sure that by the time they were 12, the kids could
distinguish a redhead duck from a canvasback from a half-mile
away.
After college in Montgomery, Ala., Powell put
those childhood birding skills to use in field work across the
southeastern U.S., Ohio, Panama, and Montana. He studied forest
fires, insects, and woodpeckers for his master's degree (2000), edited a
journal of ornithology, and then completed the science writing program
at the University of California, Santa Cruz. After deadlines, he surfed
the rocky coastline north of town, sharing the water with sea
lions, pigeon guillemots, and the occasional gray whale.
In July 2005, Powell holed up in Woods Hole, writing for Woods Hole Oceanographic Institution (WHOI) Web sites about coastal oceanography and ocean instruments, and filling up on clam chowder.
He also kicked off WHOI's practice of filing daily stories from two oceanographic meetings, the Fall Meeting of the American Geophysical Union and AGU's Ocean Sciences Meeting.
In 2006, he briefly freelanced from a perch on the West Coast. In fall 2007 he wrote five articles for Oceanus about the growing debate over Ocean Iron Fertilization.  In winter 2007 he headed for the penguins and perpetual daylight of Ross Island, Antarctica, on Expedition 3 of  WHOI's Live from the Poles. Now a staff writer at the Cornell Lab of Ornithology in Ithaca, New York, he continues to blog about science, the ocean, and birding at surf.bird.scribble, the Gist, and Round Robin. He continues to write for WHOI because they keep doing such interesting research.
The sound of boots crunching on brick-red gravel filled the thin Antarctic air. Three scientists—geologists…