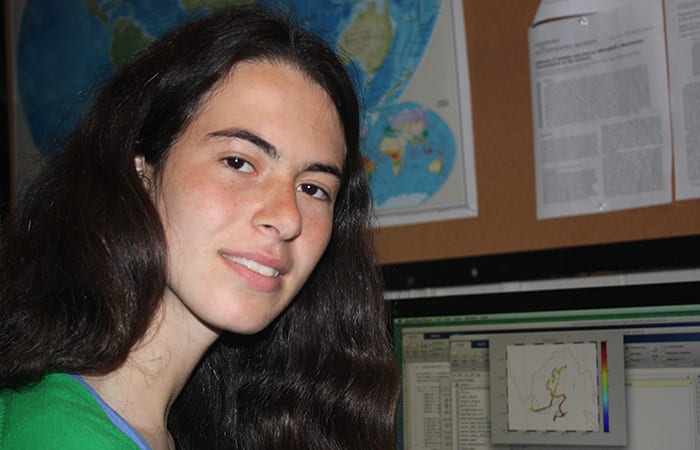 Sea Science in the Space Age
Satellite sensors trace monsoon waters in Bay of Bengal
Mara Freilich became fascinated with how little is known about the ocean at a young age, and a drive to uncover some of those mysteries landed her at Woods Hole Oceanographic Institution (WHOI) for the summer. The applied math major from Brown University came with hopes of taking an interdisciplinary look at physical oceanography. "I really enjoy the way that studying the ocean combines so many disciplines, and at WHOI, you really get all of that, all at once," she said.
Although new to WHOI, she is not new to scientific research. She previously worked at Marine Biological Laboratory in Woods Hole on a project exploring what the remains of ancient microbes can tell us about past climate, and she spent last summer in Australia with a research team focusing on theoretical ecology and community assembly.
This summer, Freilich worked with WHOI physical oceanographer Amala Mahadevan to understand what happens to the fresh water, primarily from river outflow, that comes into the Bay of Bengal during South Asian monsoons. Most of her data came from a satellite that can measure the salinity of water from space and from other satellites that record data that can be used to estimate the velocity of surface currents. Freilich has been working with vast data sets in a computational program, hoping to understand the processes that change salinity in different parts of the bay over time.
Computer programming was no problem for Freilich, as much of her coursework has involved working with similar software. However, she noted that she learned the difficulties of working with large data sets on a computer, and she was surprised by the time and careful analysis required to gain concrete results. Her efforts paid off, though: She will present her work at the upcoming conference of the American Geophysical Union in San Francisco, a notable achievement for a Summer Student Fellow.
Aside from her forays into research, Freilich is also an environmental activist. With other students from Brown, she helped rewrite and campaign for a new climate bill for Rhode Island. The old bill only had a few carbon dioxide emission targets for the state, so the group worked to promote public dialogue on climate change issues that directly threaten the state, such as rising sea levels and coastal flooding. The state legislature passed the bill in July.
After graduation next spring, Freilich hopes to enroll in a Ph.D. program that will allow her to continue working with applied math in the fields of physical oceanography and ecology.
Freilich and her research were supported by The Jake Hornor Fund.