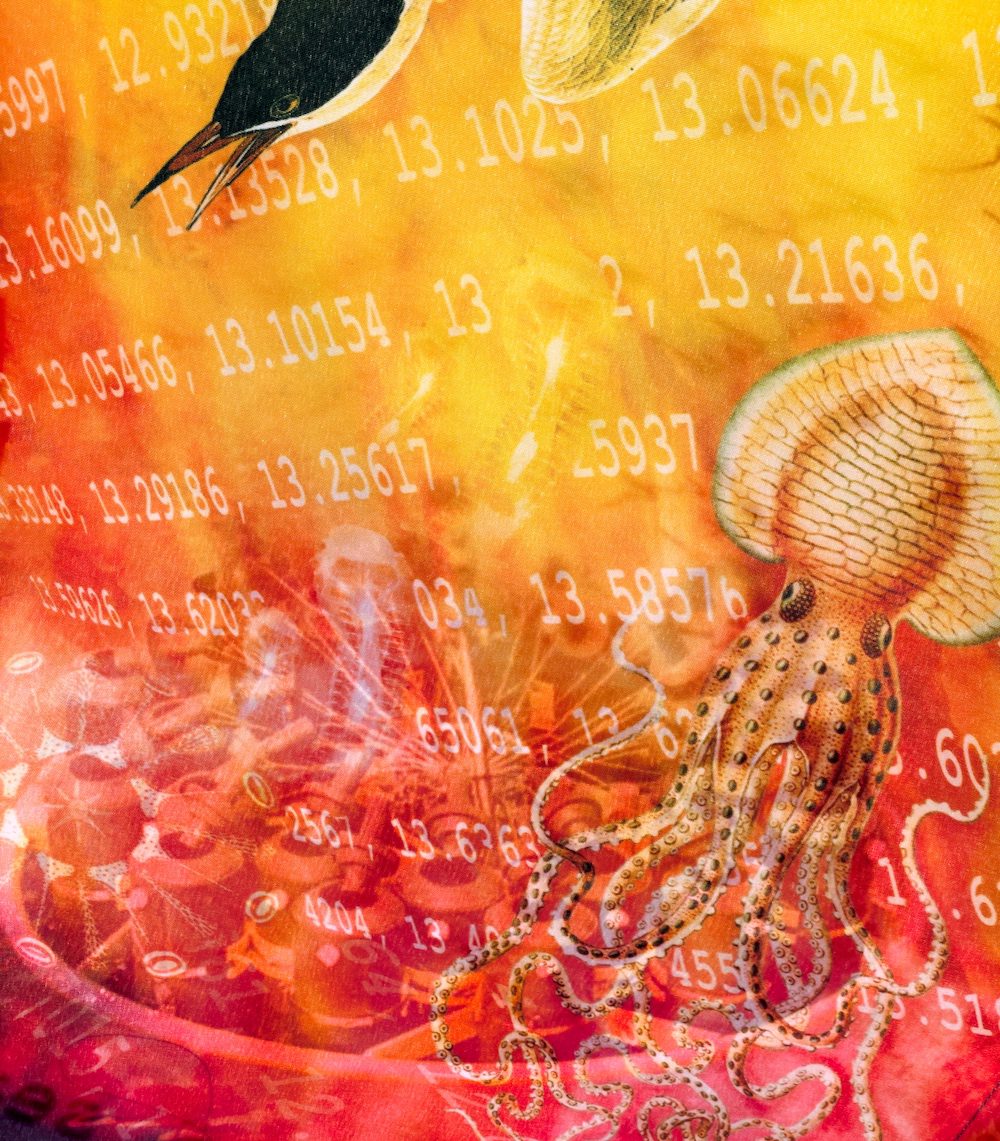 Creating synergy through art and science
A collaboration between the Art League of Rhode Island and WHOI scientists transforms abstract concepts into engaging perspectives on our ocean world.
Estimated reading time: 3 minutes
To get to Caroline Ummenhofer's office, you must traverse a colorful gauntlet of fabric spirals hanging from the ceiling. Reminiscent of backyard whirligigs, they're a welcome splash of color in a room made bare by scientists working from home. They're also an artist's interpretation of  research that Ummenhofer and post-doctoral investigator Svenja Ryan are conducting on marine heatwaves. Closer inspection reveals a collage of modeling and whaling logbook data, alongside illustrations of urchins, puffins, and other marine life vulnerable to warming oceans. The sculpture twirls in a light breeze—a nod to the currents and underwater eddies generated by the interaction of air and sea.
"Marine heatwaves," by Deb Ehrens, is part of Synergy II—an ongoing series of collaborations primarily between artists from the Art League of Rhode Island and scientists at Woods Hole Oceanographic Institution. According to the project's website, Synergy "aims to tell the story of our connection to the environment, using the vehicles of science and art, to illustrate current and future processes of individual and collaborative exploration." With projects spanning a range of topics and media, abstract concepts transform into engaging perspectives on our ocean world.
At the onset of the pandemic in 2020, the Synergy program paired 11 scientists and artists through virtual tools—akin to speed-dating—and held virtual openings in Falmouth and Cambridge. Ummenhofer paired with two artists, Ehrens and mixed media artist Hong Xu, and they shared publications and ideas over a year of Zoom meetings and emails.
"As we spent months in conversation, understanding each other's work and process, it became clear to me that [in physical oceanography] there was this long-abiding connection from the past to the present that informs our understanding of the world," says Ehrens. "[Svenja and Caroline] are dealing with massive, swirling air and water. To really represent their work, I needed to do something on a big scale. It had to be dynamic, and it really had to change in both predictable and unpredictable ways, because that's the world they're working in. So that's why I decided that three-dimensional, kinetic, fabric sculpture would be the way to go."
Ummenhofer, who also uses satellite data to understand and predict how changes in salinity affect rainfall patterns around the world, says the collaboration with Xu explores the ocean's sometimes overlooked role in the global water cycle. Xu's work, "Surfacing Basic Elements," reflects the exchange of energy, water, and salt in both in its design and process of dye sublimation onto aluminum.
"The printing process mirrors the water cycle in that heat turns solid or liquid water into gas-like vapor and it becomes solid again during cooling," explains Xu. "I tried to create an art piece to visualize this amorphous exchange by doing many experiments during which I had to learn new skills. The process is not always straightforward but rather it is a winding path. It tests our passion, resilience, and perseverance."
The collaboration with both artists opened Ummenhofer's eyes to the similarities between art and science—and the usefulness of art in communicating science to the public.
"Through our conversations, we realized art and science are really not all that different. We have a lot of the same questions: 'What tools should I use? A model or observations, sculpture or painting? How do I best present the story?'," Ummenhofer says. "It made me more conscious of how I approach my work—how art can be useful to visually show variations over time and space."
Synergy II will be on display from July 3-29 at the University of Rhode Island Gallery in Providence. A public reception will be held during Providence Gallery Night on July 21 from 5 to 8 pm. More information at synergyexperience.org.