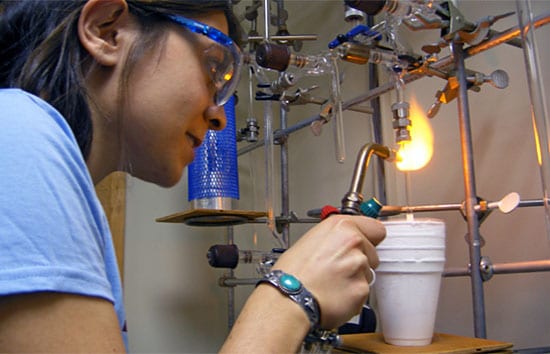 Protecting Public Health by Preventing Pollution
A graduate student seeks ways to curtail contaminants in the environment
Growing up in Maine, Desirée Plata watched her grandmother suffer from illnesses that she suspected were related to trichloroethylene—a colorless liquid, used as a solvent for cleaning metal parts, that had been dumped in the area and had made its way into groundwater used for drinking.
Her thoughts about chemicals in the environment and their impact on public health continued to percolate, and they resurfaced when she saw a 1998 film, A Civil Action, a real-life story about families in Woburn, Mass., who unsuccessfully sued two companies for illegally dumping toxic waste that caused a torrent of health problems.
"I thought it was a bit unreasonable that scientists couldn't demonstrate that the toxins had moved into the people's water supply," said Plata. "It seemed to me that there must be a way to do that, and if there wasn't, someone had better find one. I wanted to be part of that effort."
A decade later, Plata has thrust herself into the intersection of science, industry, and public health, as an MIT/WHOI graduate student. Her research on carbon nanotubes, which industry has hailed as the next great "wonder material," has shed light on a number of ways in which manufacturers may be able make their processes more efficient and less harmful to public health.
Don't mess with Mother Nature
Her research has called attention to potentially harmful effluents that can be generated during the nanotube manufacturing process. And in a paper published online April 3,  2007, in the journal Nanotechnology, she and colleagues showed that differently manufactured  nanotubes have distinctive chemical characteristics. That makes it harder to track the material in the environment (see "Making Nanotubes Without Harming the Environment").
Her goal: to work with the carbon nanotube industry while it is still in its infancy to help develop methods to prevent problems and use the materials safely.
"The old adage, 'It's easier to beg forgiveness than ask permission,' doesn't apply with Mother Nature, and it doesn't apply with public health," she said. "We need to be proactive about preventing future environmental catastrophes, and now we have the means to do it."
"Her results and data have already gained attention in a variety of fields, and her work is closely followed by industry, regulators, toxicologists, and more," said WHOI chemist Chris Reddy, one of Plata's Ph.D. advisors along with MIT environmental chemist Phil Gschwend. "She already has groups asking about her unpublished data and editors asking her to consider submitting her manuscripts to their journals, which is rare."
M.D. or Ph.D.?
Plata's interest in environmental chemistry came of age during her time as an undergraduate at Union College in Schenectady, N.Y., a town at the center of a battle between the federal government and General Electric over the company's role in polluting the Hudson River with polychlorinated biphenyls (PCBs). Plata didn't work directly on the PCB issue, but she  studied contaminants on the environment, researching the effects of pollution-fueled acid rain on fish communication in Adirondack lakes. Her first research papers were published when she was 19 years old.
"I've always felt that everyone can have an impact on the world around them, regardless of her age, social stature, or perceived limitations," she said.
In 2002, Plata came to WHOI as a summer fellow and was drawn to Reddy's lab, where scientists were studying how chemical compounds from oil spills disperse and decay over time. For two consecutive summers, Plata helped Reddy and other researchers conduct experiments on photochemical degradation in oil spills, including a large spill from an oil-carrying barge in Buzzards Bay off Cape Cod in 2003. In March, a paper on this research earned Plata a 2008 Graduate Student Paper Award from the American Chemical Society's Division of Environmental Chemistry, its highest award given to students.
"For a while, I thought being a doctor was the best way to help people," Plata said. "Then it hit me: Curing diseases is a challenging problem, but why not prevent people from getting them in the first place?"
Nevertheless, Plata spends one day a week at Massachusetts General Hospital in Boston, volunteering in the facility's Cancer Treatment Center. Her aunt is a patient there, and she says the experience has brought her closer to her aunt, as well as many of the other patients.
"Seeing these patients also re-emphasizes the need for our preventative science," she said.
One small step for a woman
During their first three years of graduate school, Plata also joined fellow MIT/WHOI graduate student Ari Shapiro in designing, garnering funding for, and implementing a program to to teach third-, fourth- and fifth-graders in the Cambridge School District about environmental science and oceanography.
"Our goals were three-fold: (1) to foster a love of the environment and learning at a young age, (2) to build self-confidence to help students achieve their goals and give back to the community, and (3) to increase recruitment of underserved and underrepresented groups to the environmental sciences," she said. "We taught at an inner-city school and really made some strides with these students, encouraging many of them to care about the world around them and stick to their goals, no matter how unattainable they might seem. Some of these students have really tough backgrounds, and we tried to make them love school, and the Earth—and themselves!—for a few hours every other week."
"Our 'alums' still stop Ari and me when they see us around Cambridge," Plata said. "My favorite comment from one student was, 'This is the best day of my life!' when we brought him to a beach for the first time in his life. Yes, he grew up in Boston. Another student, who had just been removed from an unsafe, drug-afflicted home situation, said, 'I'm going to keep writing and exploring, just like you said I could do!' All anyone really needs is someone to believe in him or her. We tried to provide that type of inspiration to these kids."
"Desirée lives and works passionately," Shapiro said. "She takes her science seriously and has a great way of keeping the big picture in mind as she conducts her research. She cares about the environment and about people very deeply."
Plata demurs when she hears such praise, explaining that whether she's studying or giving back to the community, she spends her time doing what she loves. Though her perpetually busy schedule leaves her little time for herself, it seems she wouldn't have it any other way.
"All of these activities, all of my research—they are all small steps toward making a difference," she said. "There's no silver bullet, but instead, a thousand BBs, and I'm a firm believer that every small piece will help save the world."