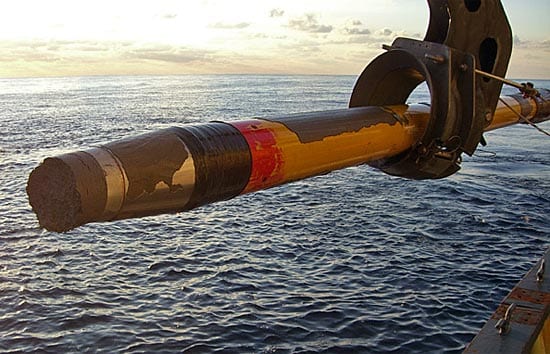 New System to Take Long Seafloor Cores Is Ready to Go
Tested at sea, the 'Long Corer' restores U.S. capacity to extract cores up to 45 meters (150 feet) long.
Over five years, engineers had designed, built, and tested components for a new, one-of-a-kind system to extend the length of sediment samples cored from the sea floor. In September, they took it to sea to find out if the new coring system installed on the research vessel Knorr can accomplish the daunting feat of pulling up cores weighing up to 30,000 pounds and measuring up to 45 meters (150 feet).
That nearly doubles the coring capacity of the United States research fleet, which ranged from 20 to 25 meters (60 to 80 feet). The longer the cores, the deeper they go, collecting older sediments that record past conditions and events in the planet's oceans and climate.
In tests off Bermuda and New Jersey, the long-core system retrieved eight cores, ranging from 25 to 38 meters (85 to 125 feet), said James Broda, a WHOI research specialist who guided development of several specialized components for the long core system. These  included a winch and new synthetic ropes strong enough to haul up long cores, and hydraulic systems and davits to launch and recover the corer.
"All the many components of the 'Long Corer' were finally in one place on Knorr, and as a complete system, it started on the first pull," he said. "The winch performed as designed, the starboard davits danced in sync to launch and recover the core, and all the new hydraulic systems worked better than we dared expect they would. It was a blast to see it all come together."
Adding to researchers' excitement was seeing the quality of the cores collected.
Historically, heavy corers stretch the long wirelines on which they are lowered. When the corer penetrates the seabed, the wirelines recoil elastically, jerking an internal piston within the corer. That erratic piston motion stretches and distorts the stratified sediment layers that provide a chronological record of past conditions and events in the planet's oceans and climate.
"The long core system employs an exceptionally strong synthetic rope that does not stretch even at full ocean depths of more than 15,000 feet with a heavy load in place," Broda said.
None of the cores collected during sea trials, including two 38-meter cores, showed evidence of stretching, said geologist Bill Curry, director of the Ocean and Climate Change Institute at WHOI.
Video
Related Articles
Featured Researchers
See Also