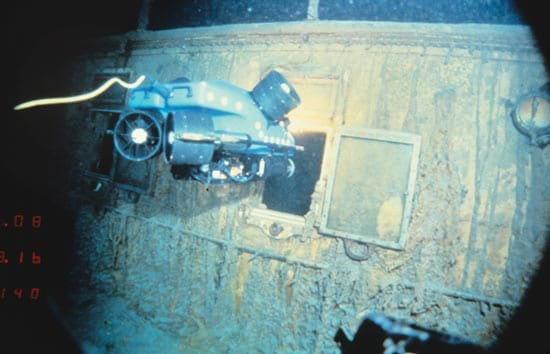 Engineers Honored for Pioneering Undersea Robot
The engineering team at Woods Hole Oceanographic Institution that built the first fiber-optically cabled deep-sea robot Jason Jr. received the GlobalSpec Great Moments in Engineering award July 14, 2006—on the 20th anniversary of Jason Jr.'s historic first video survey of the RMS Titanic.
The award is presented annually "to a person or group whose singular moment of engineering ingenuity produced a significant turning point for the application of technology and resulting benefits to people, science, or industry."
Shortly after Titanic was found on the seafloor in the winter of 1985, the Navy commissioned a return mission to test a small remotely operated vehicle (ROV) with high-resolution camera systems that could operate in deep water in tight spaces and amid tangled wreckage too dangerous for humans to investigate in larger submersibles. The Deep Submergence Laboratory (DSL) at WHOI had six months to design and build the prototype ROV.
"I didn't see my daughter for months, and for some of the team, they didn't see their families much at all during those days," said project leader Chris von Alt Jr., who accepted the award with four other members of the DSL team at a ceremony at the New England Aquarium in Boston. Several other original team members couldn't make the ceremony because they were operating Jason Jr.'s larger progeny, Jason, on a research cruise off Papua New Guinea.
"The team proved that deep-sea exploration could be achieved through unmanned robotics," said Jeff Killeen, chairman of GlobalSpec, who presented the award. "Today's ROVs strengthen naval security in wartime, have opened up vast new commercial opportunities for the private sector, and have provided the research tools to significantly enhance our understanding of the ocean's ecosystems."