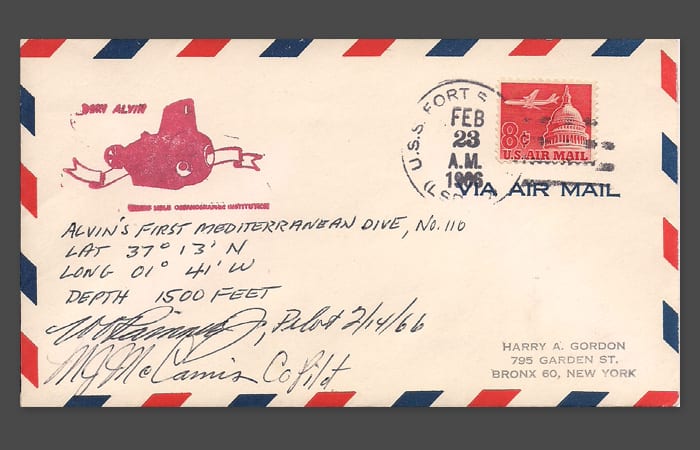 'Covering' Alvin's History
Museum exhibit highlights sub-related postal artifacts
On June 5, 2014, a stack of 25 envelopes containing nothing was hand-carried from the research vessel Atlantis on a dock in Gulfport, Miss., to a nearby U.S. Post Office. A postal worker carefully hand-canceled the envelopes and posted them to Woods Hole, Mass. The mailing had to be done on that exact day. Fifty years before, on June 5, 1964, Alvin, the nation's deepest-diving research submersible, was commissioned at Woods Hole Oceanographic Institution (WHOI). Each envelope, decorated with ink-stamped pictures of Alvin, had been signed by the members of the team that operates Alvin and pre-addressed. A few days later, the empty envelopes began showing up in mailboxes.
Such activity might seem mysterious, but not to a philatelist, or stamp collector. The envelopes themselves are known as "postal covers," or just covers. To collectors, the covers, like stamps, are artifacts that commemorate and preserve history. These 25 covers were made to mark Alvin's 50th year, but there are many other existing covers commemorating many of Alvin's nearly 5,000 dives to the bottom of the sea.
This October, which happens to be National Stamp Collecting Month, the Spellman Museum of Stamps and Postal History at Regis College in Weston, Mass., opens an exhibit, "Alvin at 50: The little sub that could." The exhibit, from October 3 to November 2, will display artifacts of Alvin's history, stamps from several countries, and covers from many dives.
"We're doing the exhibit because we want the world to know about Alvin and to make it exciting and interesting for the general public," said Nancy Clark, president of the museum. "About a third of all Alvin dives seem to have covers made for them. We wish it were all of them. It's a collectible item, but it's also commemorating events. Collecting covers lets people own a piece of history."
Collecting covers
Many people may be familiar with "first day covers," said David DuBois, a research assistant at WHOI and a philatelist. "The stamp is not the focus. The covers are 'philatelically historic,' a record of each dive, mailed from the ship's next port of call."
The earliest one in the exhibit is from dive No. 110, signed by Alvin's first pilots Bill Rainnie and Marvin McCamis. Others include covers from Alvin's first dive to 10,000 feet, Alvin's role in recovering a lost hydrogen bomb off Spain, and Alvin's dives for the groundbreaking 1973 French-American Mid-Ocean Undersea Study (FAMOUS) project.
"In stamp collecting, there are covers for lots of things—old airplane flights, Navy ships, space shuttle flights," said Ed Hayes, who put together the exhibition with Clark. Hayes was an executive who worked at General Mills Corp. when that company designed and built the original Alvin, working with Harold ("Bud") Froelich, Alvin's designer, and General Mills Vice President James Summer.
Hayes wrote about Alvin for the Universal Ship Cancellation Society (USCS) Log, a publication for collectors of ship-related covers. "Marine collectors collect mostly ship covers," he said. "In 1908, Congress passed a law allowing post offices on Navy ships, and covers began for Navy ships in 1909. WHOI ships have no post office, so covers are postmarked at the next ports."
Covering Alvin
In Alvin's early days, a few people started to use covers to document the dives, creating hand stamps or cachets (cover art) for the envelopes and asking pilots to carry them down on dives, sign them, and add information on the date, depth, and people aboard.
"There was a relationship between collectors and pilots," said DuBois, who got his start stamp collecting as a child and now documents his own research cruise history with stamps and covers. "Now I'm one of the few people continuing the Alvin dive cover tradition. I have several hundred in my collection."
"We're all part of the Cape Cod Area Philatelists' Group," he said, referring to himself, Clark, and Hayes. Some of Alvin's current pilots also collect Alvin covers.
"An individual can decide to create a cover," said Clark, using his or her own envelopes and designes to commemorate an event. For Alvin dives, said DuBois, Alvin cover collectors send covers to the contact at WHOI, Rick Chandler, who is the submersible operations group administrator. He keeps the Alvin cachet stamp and "metadata block" stamp for the dive, location, depth, and sub occupant information.
DuBois and Hayes both helped create the latest cover.
"I was the facilitator, and Ed Hayes the instigator," DuBois said. "When the 50th anniversary was coming up, Ed sent me a list of ways to celebrate, in a stamp-collecting way." DuBois took Hayes' suggestion of a cover to WHOI Communications Director Fritz Heide, who found funding to design a 50th anniversary cover, and Katherine Joyce, WHOI graphics creative director, who designed it, combining the 50th birthday logo and Alvin's outline.
"What compelled me to be involved in this," said Hayes, "was my personal attachment to Summer and Froelich, two of the five guys—Summer, Froelich, [Charles "Swede"] Momsen, director of the Office of Naval Research, WHOI scientist Al Vine, and [former WHOI director] Paul Fye—who brought Alvin into being—against the odds. Now I'm the only person left who worked with them."