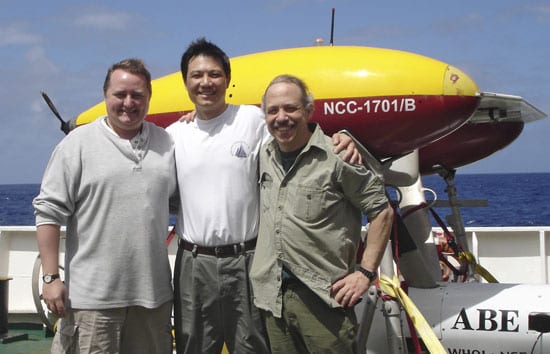 Building International Bridges to Explore Ridges
In January 2007, WHOI scientists Jian Lin, who grew up in China, and Chris German, who grew up in England, became the new chair and co-chair of an international organization called InterRidge. The group helps coordinate research activities of roughly 2,500 scientists from 25 countries who study mid-ocean ridges. InterRidge will be based at Woods Hole Oceanographic Institution for the next three years.
"InterRidge helps facilitate partnerships to accomplish what any one country would be hard-pressed to do on its own," Lin said. "Cutting-edge ocean sciences in the 21st century require increasing international cooperation and resources. We are honored to have an opportunity to lead the international community in promoting and coordinating scientific research and exploration of the fascinat-ing deep-ocean geological, hydrothermal, and biological processes along the global mid-ocean ridges."
German and Lin collaborate closely on research and recently returned from an expedition to the Indian Ocean where they contributed to the discovery of the first deep-sea hydrothermal vents along the ultraslow-spreading Southwest Indian Ridge (see "A Ridge Too Slow" https://www.whoi.edu/oceanus/feature/a-ridge-too-slow/).
The two scientists also were honored recently for their outstanding contributions to understanding the makeup and dynamics of Earth's ocean floor.
German, a marine geochemist, was awarded a Doctor of Science (ScD), or "Higher Doctorate," by the Faculty of Earth Sciences & Geography at the University of Cambridge at a ceremony in England in May. The distinguished ScD degree is awarded after an as-sessment and approval process that can take as long as three years. The ES&G faculty have awarded only four ScD degrees in the past two years.
Lin, a marine geophysicist, was elected a Fellow of the Geological Society of America in recognition of his "innovative, significant, and continuing contributions to the understanding of global ocean ridge processes and earthquake interactions."