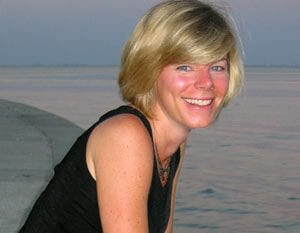 Kristen Kusek is a Jersey girl who spent less time on the turnpike and more "down the shore," where her curiosity about the ocean was first kindled digging to China for sandcrabs. She almost made it once.
Kusek studied biology and English at Bucknell University in Lewisburg, Penn. Next came graduate work at the University of South Florida in St. Petersburg, where she earned dual master's degrees in marine science and journalism. She later started a Science Journalism Center at USF and directed the education outreach effort for a deep-ocean IMAX film, for which she got her first Alvin dive to vents in the Pacific.
She worked for four years as a science writer and education outreach coordinator for InterRidge, an international nonprofit ocean science organization based at Woods Hole Oceanographic Instituion for the years 2007-2009, and is currently director of public relations for Earthwatch Institute, the world's largest environmental volunteer organization. While the ocean remains Kristen's lifelong passion, through Earthwatch she hopes to meet the monkeys in Costa Rica and maybe even the endangered lions of Tsavo in Africa.
To date, "work" trips afforded Kusek the chance to visit the Taj Mahal at sunrise, climb atop the world's northernmost active volcano, and get an Alfa Romeo stick shift stuck in an alleyway of San Miguel in the Azores.
Kusek lives in Cambridge, Mass.
Our planet is full of fascinating flowing fluids. Jack Whitehead has investigated all sorts of…