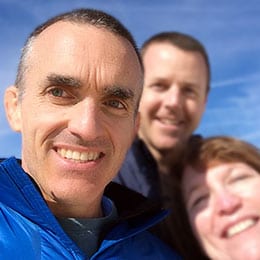 Chris Reddy is a senior scientist at Woods Hole Oceanographic Institution and studies marine pollution, petroleum geochemistry, and natural products.
Reddy became interested in biofuels about ten years ago when his dad asked him what biodiesel was and whether there were any catastrophic spills of it. That question led to a marriage of Reddy's interests in fossil fuel spills and natural products, and he investigated what would happen if there was biodiesel spill, the quality of commercially available biodiesel, and potential environmental impacts of chronic pollution from biodiesel-driven vehicles.
Reddy then turned to making algae-based biofuels and began to collaborate with a former guest student in his lab from 2002, Greg O'Neil, now a chemistry professor at Western Washington University.
Reddy's attention to biofuels was diverted when the Deepwater Horizon disaster occurred in the Gulf of Mexico in April 2010, but his work with O'Neil continued. With O'Neil on sabbatical leave in Reddy's laboratory this year, the two have accelerated their efforts and been having a lot of fun doing it.
Reddy received his B.S. degree in chemistry from Rhode Island College and his Ph.D. in chemical oceanography at the University of Rhode Island. He received an executive education certificate in management and leadership from MIT and completed Leadership for the 21st Century at Harvard University's Kennedy School of Government.
A new discovery could change the way officials approach oil spill cleanups.