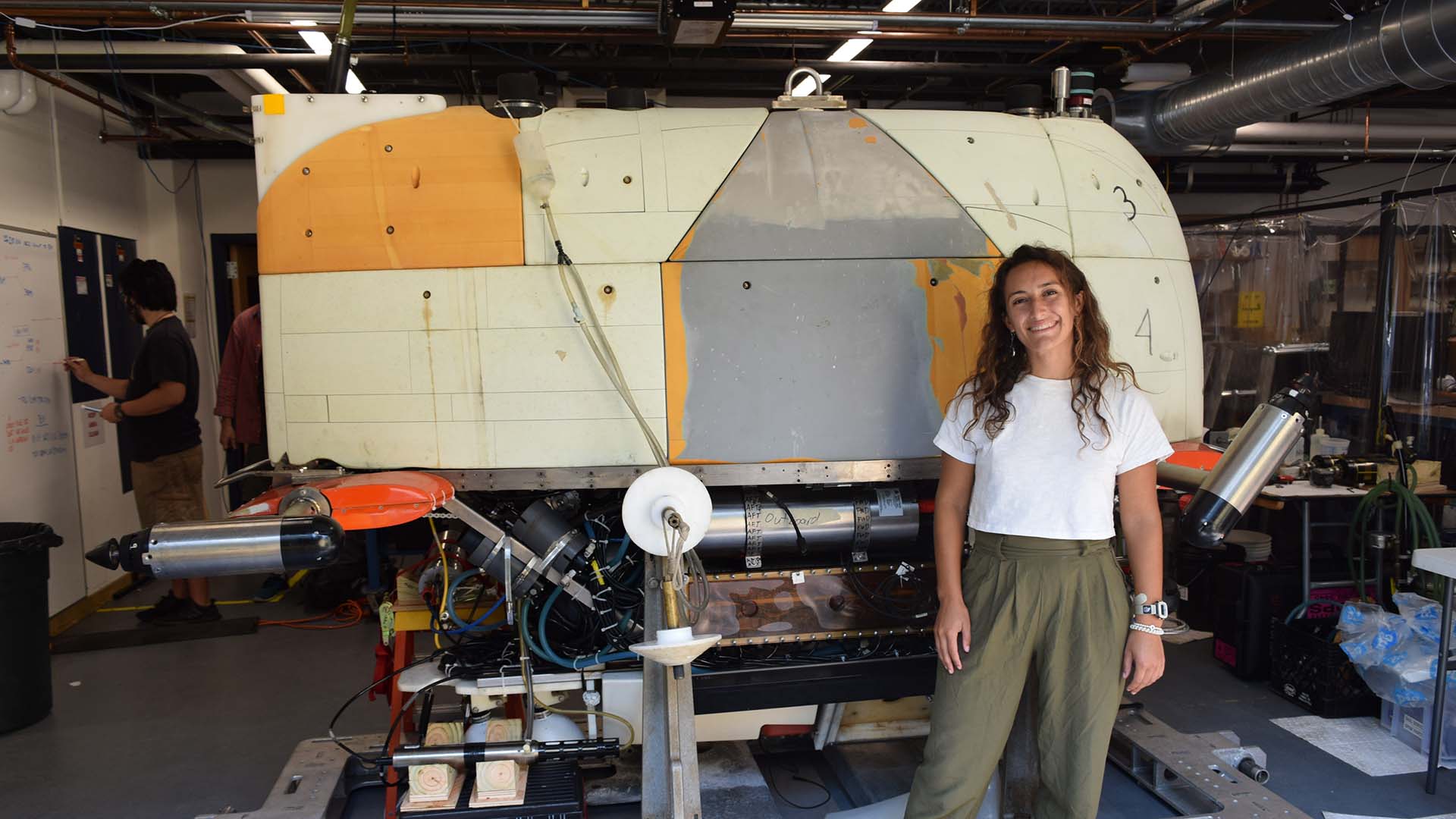 Summer with Sentry: Intern Renee Gruner-Mitchell
Renee Gruner-Mitchell on her internship working on AUV Sentry at the National Deep Submergence Facility during the summer of 2021.
Estimated reading time: 2 minutes
Renee Gruner-Mitchell is a senior at Worcester Polytechnic Institute majoring in mechanical engineering with a focus in robotics and a minor in business. She grew up on Cape Cod, Massachusetts and has known about ocean exploration vehicles at Woods Hole Oceanographic Institution (WHOI) for as long as she can remember. This summer Gruner-Mitchell interned with the Sentry group while the vehicle was in port for summer maintenance. 
Autonomous Underwater Vehicle Sentry is operated by the National Deep Submergence Facility at Woods Hole Oceanographic Institution.
---
Oceanus: What did you gain from working with the Sentry group?
Renee: I wanted to learn what the day-to-day life of an ocean engineer is like. At school, I work on something for seven weeks, put my heart and soul into it, and then put it out of my mind and move on to the next term. I wanted to apply what I was learning and get more hands-on experience. I wanted to learn what skill sets I actually need for a career in this field. I was surprised by how hands-on this internship was! I never touched a fancy calculator this summer. But I learned how to make CAD drawings and turn a sketch into a reality—how to turn this little 2D thing on a computer into something people can actually use.
Oceanus: What part of Sentry did you work on?
Renee: I worked on support equipment for the vehicle—a structure to help discharge the batteries and a testing stand for the thrusters.
I loved doing my projects that I was able to take from start to finish. But I also loved being able to just help out when someone needed a hand. I learned how to service different parts of Sentry—how to check a device out, disassemble, and clean it. I helped out a bit with the junction-boxes. Since Sentry is hardwired, everything that is wired goes back to the junction-box. It is kind of the heart of the vehicle.
I love puzzles. I think that is why I love engineering. I love seeing how the pieces of Sentry fit and how they work together.
Oceanus: How did this experience impact your career goals?
Renee: I've always known that my career will be something that works towards bettering the ocean. Engineering is really a foundational aspect of policy change. Engineers provide equipment for scientists to get data, scientists write papers, and hopefully those papers inform policy. In the future, I want to see how I can be more directly involved in that chain. I want to see actual change in how we treat our oceans.
The National Deep Submergence Facility hosts interns to work with Autonomous Underwater Vehicle Sentry, Remotely Operated Vehicle Jason, and Human Occupied Vehicle Alvin through the MATE program. They also consider individual applicants and are in the process of establishing long-term partnerships with specific universities that will create opportunities for populations that are underrepresented in ocean engineering.