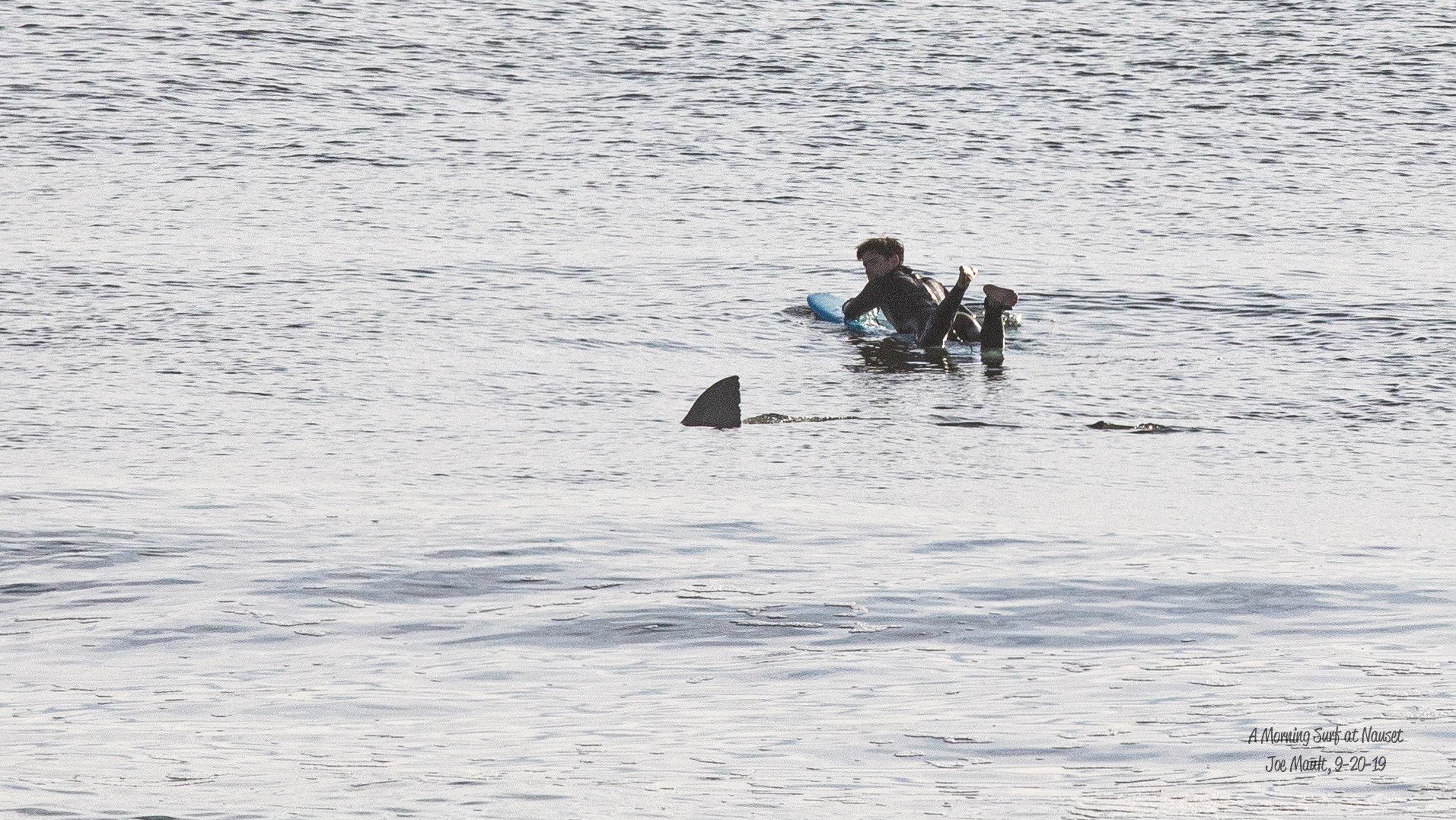 Partly cloudy with a chance of sharks
Researchers develop 'heat map' shark forecast system toimprove beachgoer safety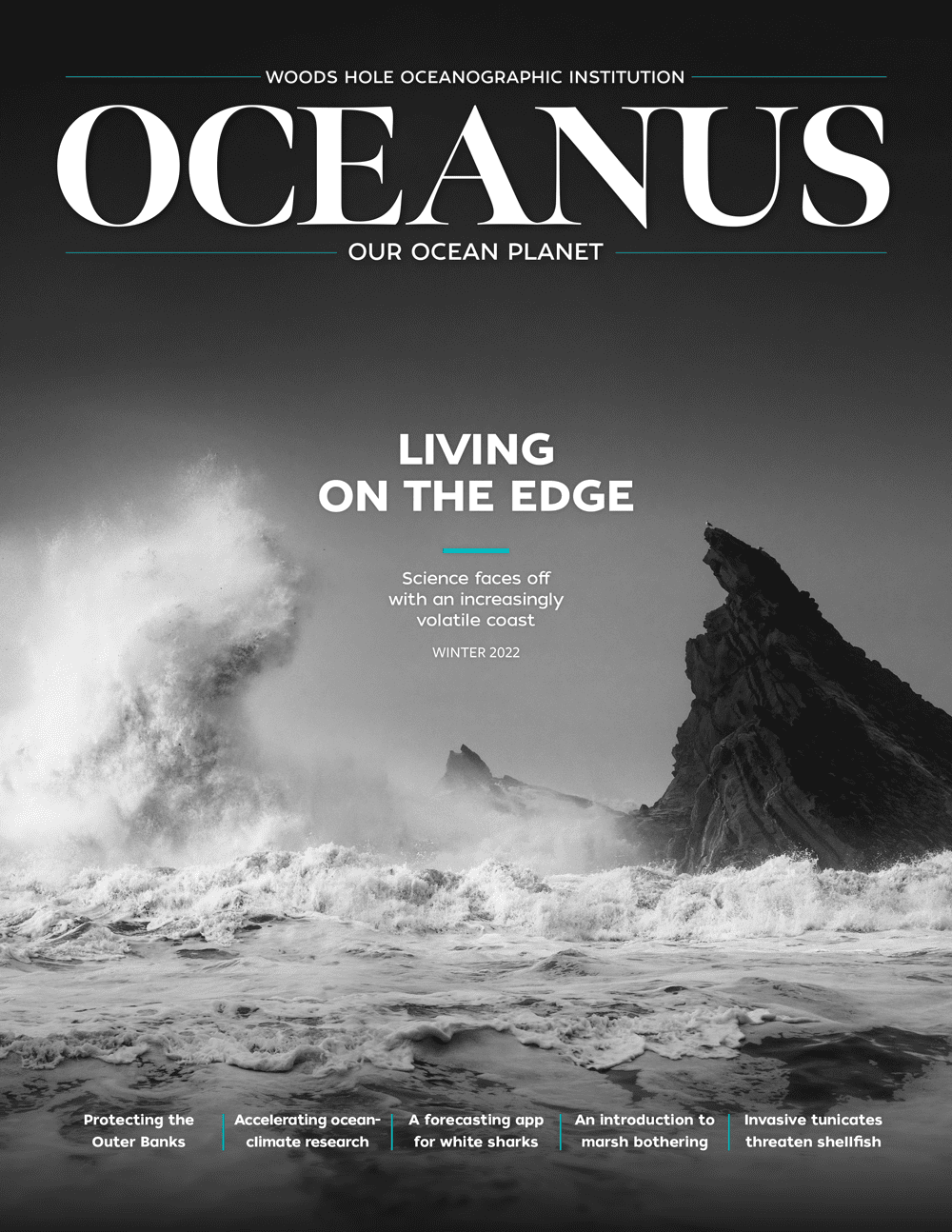 This article printed in Oceanus
Winter 2022
Estimated reading time: 5 minutes
Devon Zimmerman sat patiently on his surf board waiting for the next swell to roll in. It was early morning on a crystal-clear day in September, 2019 and he was out for an early morning surf off Nauset Beach on Cape Cod. In between sets, the then 30-year-old surfer from Brooklyn, NY, dangled his feet in the glassy, 59 °F water as the ocean became still and quiet. So quiet, in fact, that he could make out a light rustling sound in the water surrounding him.
"I heard what sounded like a little splash or displacement of water," recalls Zimmerman. "I thought it might have been a seal breaching, but then when it came up to surface, I saw the dorsal fin."
Seconds later, the head of a great white shark appeared less than five feet away from Zimmerman, making eye contact with him. "The scale of the shark was just monumental," he says. After briefly surfacing, the predator dipped back down below the dark surface.
For Zimmerman, that's when things became really terrifying. No longer able to see the shark—perhaps it went behind him, or maybe right under his surf board —he lifted his feet out of the water in what he describes as a "calm panic." Carefully, he began arm paddling back towards the beach about 75 yards away. Then, a huge wave suddenly rolled in.
"The wave crashed on my back and just pushed me," Zimmerman says. "I held on and let myself tumble-wash to the shore as close as possible and then ran out of the water."
Decades ago, a face-to-face with a white shark on Cape Cod would have been rare. But in recent years, the area has become a global hotspot for white sharks as gray seals, one of their key fatty food sources, have made a major resurgence on popular swimming and surfing beaches along the Cape's eastern shoreline.
Researchers from the Massachusetts Division of Marine Fisheries and the Atlantic White Shark Conservancy have spent the last ten summers attaching acoustic tags to hundreds of sharks cruising through the area. The high-tech tags send high-frequency "pings" to acoustic receivers scattered along area beaches. Scientists use the data to estimate the abundance and relative density of white sharks off the Cape, and study their movements in and out of feeding locations.
Now, they want to use the tracking data to help mitigate human-shark interactions and improve beach safety. Specifically, they're developing a near real-time "shark forecast" system—a color-coded heatmap for sharks—that can alert town managers, lifeguards, and beachgoers when and where white sharks might be present.
"White sharks have become predictable visitors to our waters in the summer and fall, but you'd be surprised how many people don't realize that there are all these sharks hunting for seals right off the beach," says Megan Winton, a marine biologist with the Atlantic White Shark Conservancy and one of the developers of the new mapping technology.  "So, we're taking ten years of acoustic tagging data off the Cape coast and merging it with environmental data like water temperature to create dynamically-updated shark forecast maps."
Water temperature is a key variable, Winton says, since it's linked to when white sharks show up to hunt. According to a study published last year, the predators spent 95 percent of their tracked times in water temperatures ranging from 48 to 69 degrees Fahrenheit on the Cape.
"Temperature really constrains when they can be here, and we see thermal preferences highlighted in our seasonal peaks of shark activity," says Winton.
The forecast maps are being developed as part of a statewide effort in Massachusetts to reduce the possibility of shark-human interactions. Shark attacks in the region have seen an uptick in recent years, the most recent of which resulted in fatal injury to a boogie boarder in September, 2018. Matt Charette, a WHOI marine chemist and director of Woods Hole Sea Grant (which funds the project) says the shark forecast tech could become a key solution for non-lethal shark mitigation.
"It will be a valuable forecasting tool for use by both residents and visitors to the Cape, which are an integral part of our local economy," says Charette.
It's unclear when the maps will be ready for public use, but the Atlantic White Shark Conservancy plans to eventually incorporate them into its website as well as its 'Sharktivity' app, which provides white shark sighting information posted by researchers, lifeguards, and beachgoers.
Winton says that when the maps are rolled out, the White Shark Conservancy and partner organizations will need to be careful not to overpromise. "Everyone's looking for a solution, but people will have to really understand what these maps mean," she says. "They will not be intended to predict where an individual shark is at a particular moment."
Rather, she says, the maps are about helping people coexist with the ever-growing shark population by letting them know when and where sharks are predicted to show up. "If people don't know that sharks are out there at certain times of the year, they can't modify their behavior to avoid interactions with them."
Behavior modification is the only real shark mitigation strategy in Winton's mind, given the results of a 2019 study that reported limited success of dozens of other strategies including nets, barriers, and electromagnetic shark deterrents.
Zimmerman buys into the human-shark coexistence idea, and applauds the scientific community for coming up with innovative ways for people and sharks to share the same shallows. Of course, he didn't need any fancy shark maps to help modify his own behavior.
"These days, I surf at points north of the Cape, or I go down to Rhode Island," says Zimmerman. "I don't want to test my luck anymore."