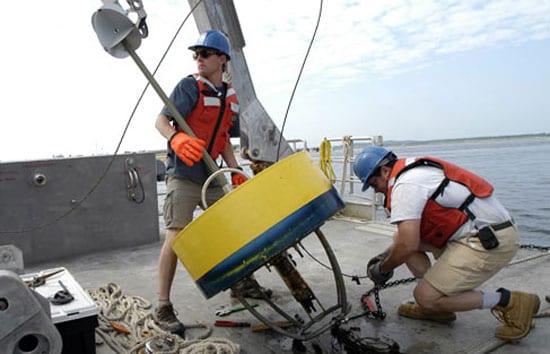 At the River's End
WHOI scientists explore the complex dynamics in estuaries
In science, some of the most confounding and interesting questions come from the borderlands, where one physical world collides with another. In marine science, one of the most dynamic environments is where rivers meet the sea, in partially enclosed bays called estuaries. Here rivers tumble into tides, salt water mixes with fresh, and material washed from the land churns with sediments, nutrients, and chemicals imported from the sea.
Estuaries create some of our most biologically rich and productive areas. They are also places where the human and natural worlds mix—New York on the Hudson, London on the Thames, Cairo on the Nile. Despite our having lived on estuaries since leaving the caves, we know remarkably little about the physics of how water stirs and mixes where rivers meet the ocean. How will an estuary respond to a sewage or oil spill? A drought or storm? To rising sea level? Where will channels silt up or deepen?
WHOI scientists Rocky Geyer and Jim Lerczak are exploring these and other questions in a study of how the shape and topography of estuaries determine the fate of water-borne substances, such as pollutants and sediments. They are studying estuarine dispersion in three dramatically different settings: The Hudson River plunges, straight as an arrow, into the Atlantic; the Merrimack River in Massachusetts snakes into the Atlantic behind a barrier beach and vast intertidal flats and salt marshes; the North River, also in Massachusetts meets the Atlantic after meandering through a shallow estuary.
Fieldwork in the Hudson was conducted in 2002 and 2004 and will be carried out in the North River in 2006. The 2005 field season concentrated on the Merrimack River.
In May 2005, instruments were placed on the Merrimack riverbed along a 7-kilometer stretch, from the river's mouth inland. In July, the instruments were recovered, and thousands of measurements were made along the river's length and at its mouth to better understand the physics controlling salt dispersion and the mixing of lighter outgoing fresh and denser incoming salt waters.
The following slide show features the July 12-13 mooring recovery operation in the Merrimack River, using WHOI's R/V Tioga and the support vessel, Mytilus.
Thanks to Rocky Geyer, Jim Lerczak and the science party and crew of Tioga for their generous assistance.