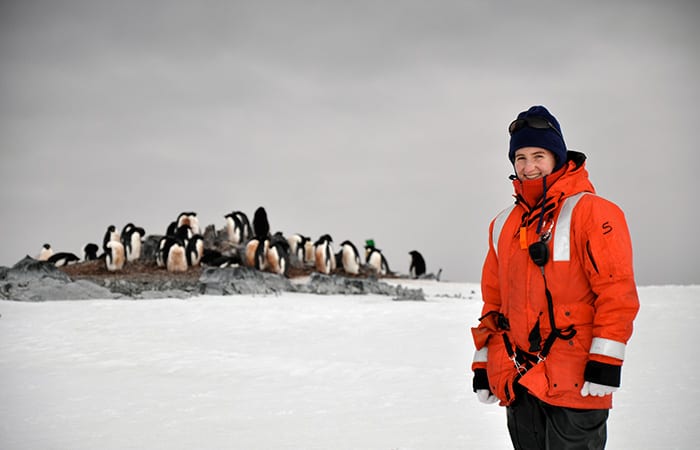 The Scientist and the Poet
A brief encounter amid Antarctic ice
Alice Alpert, a graduate student in the MIT/WHOI Joint Program, studies what the chemistry of coral skeletons can tell us about the ocean in the past.
Before coming to WHOI, she worked in Antarctica as a lab technician. There she met poet Katharine Coles, whose visit was sponsored by the National Science Foundation as part of a program to bring artists and writers to the forbidding continent. Coles' book of poems based on that experience, The Earth Is Not Flat, was just published by Red Hen Press.
Here, Alpert reflects on the meeting of scientist, poet, and ice.
"As an undergrad at Brown, I studied deep-sea sediments from 5 million years ago. And when I graduated I was thinking, what is this for? What am I doing? I didn't know what I wanted to do when I graduated. So I did the thing that I was most qualified for, which was work as a lab assistant. I had the opportunity to work at a station in Antarctica for two field seasons.
The whole time I was there, I was so frustrated because I couldn't describe it. Antarctica is such a crazy landscape that is so difficult to describe in words, and our language developed before anyone had ever seen Antarctica. Then in 2010 this poet, Katharine Coles, came to my station. She actually wrote a poem about an interaction she had with me. It's called 'To Alice, the Beast Appears.'
She had to write a proposal to NSF on what she was going to do, and one of her proposed poems was a bestiary, like fantastical things you might see in Antarctica. She talked about things like dragons that you might see. And I was out on the water one day collecting samples, and it was a really sunny day, so the little icebergs got melted a lot on top, and they got into these really crazy shapes. When I came back to the lab I was all excited—'Kate, I saw the dragon!' And so she wrote a poem about it.
I see this really interesting parallel between her and us as scientists, because in the end, we're all trying to describe this completely new world that humans don't know much about. For us, it's about counting cells, it's about measuring salinity, conductivity, temperature, and depth. For Kate, as a poet, she's all about capturing something with the fewest words possible. Some of her poems, it was like, 'Yes! That's it!'"
To Alice, the Beast Appears
Say a creature glows in the dark, body And soul afloat on a sea So southern you have to pass through An underworld to get Where it's never dark. You've dreamt This creature's spine and head and extravagant Tail lifted from the water so elegantly It must be curious, preening, still As life. You know It's apocryphal. You take one photo After another. Carved ice, blue Water you must jump into, though You'll take years to get your nerve, A day to stop chattering. I dreamed The creature. Alice pointed it out In this world, in which its push- Me pull-you shape keeps Changing. So pure, we could Chisel chunks off to chill Our drinks. Instead, we leave it to sail wind And tide toward its necessary Vanishing. Ice-blind, we see right through it. By Katharine Coles reprinted with permission of the author
Poet Katharine Coles practices wearing a survival suit during her trip to Antarctica in 2010. (Photo by Susan Moran)