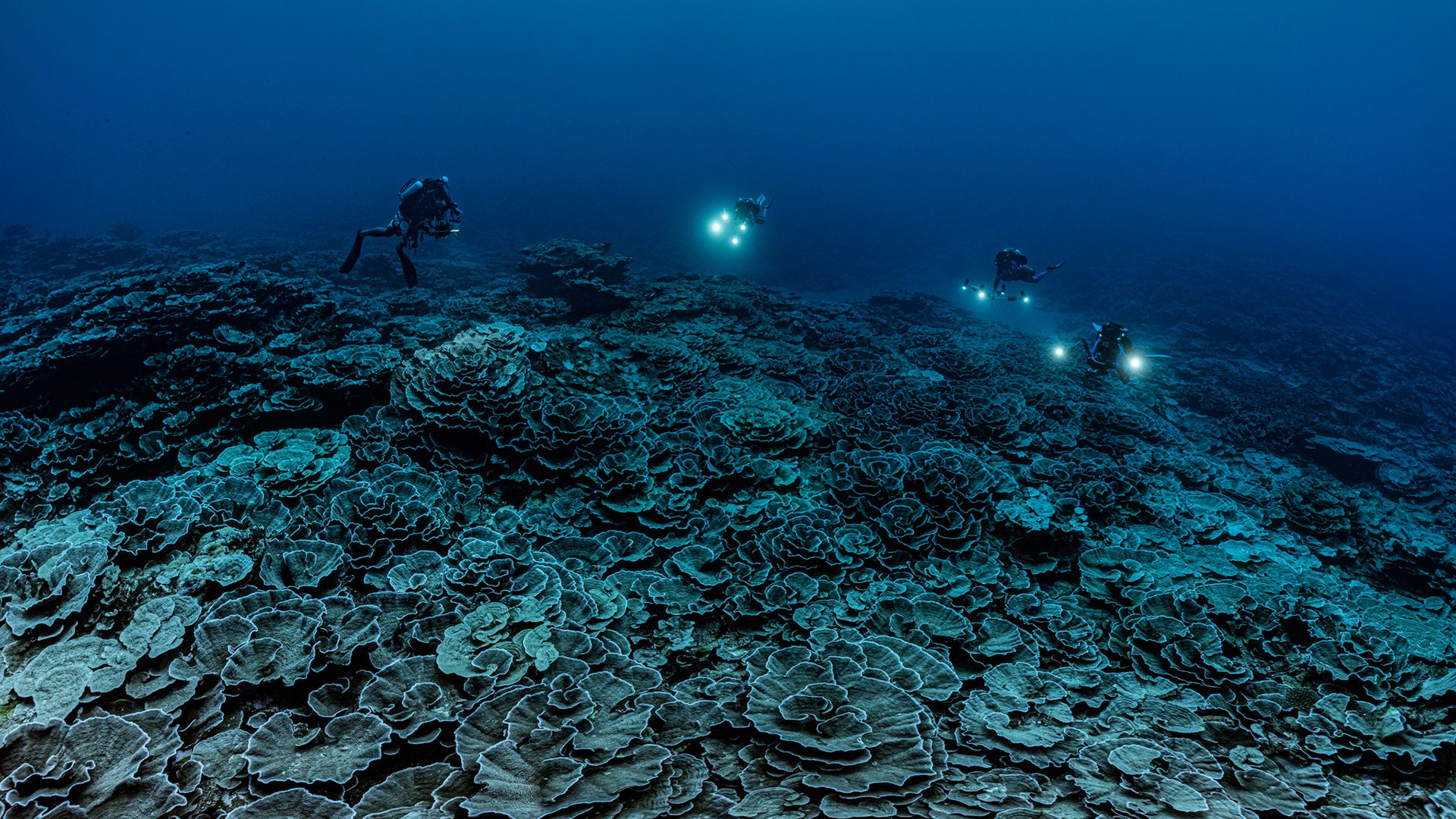 A bed of roses in the ocean
Flower-shaped corals blossoming off the island of Tahiti offer hope for reefs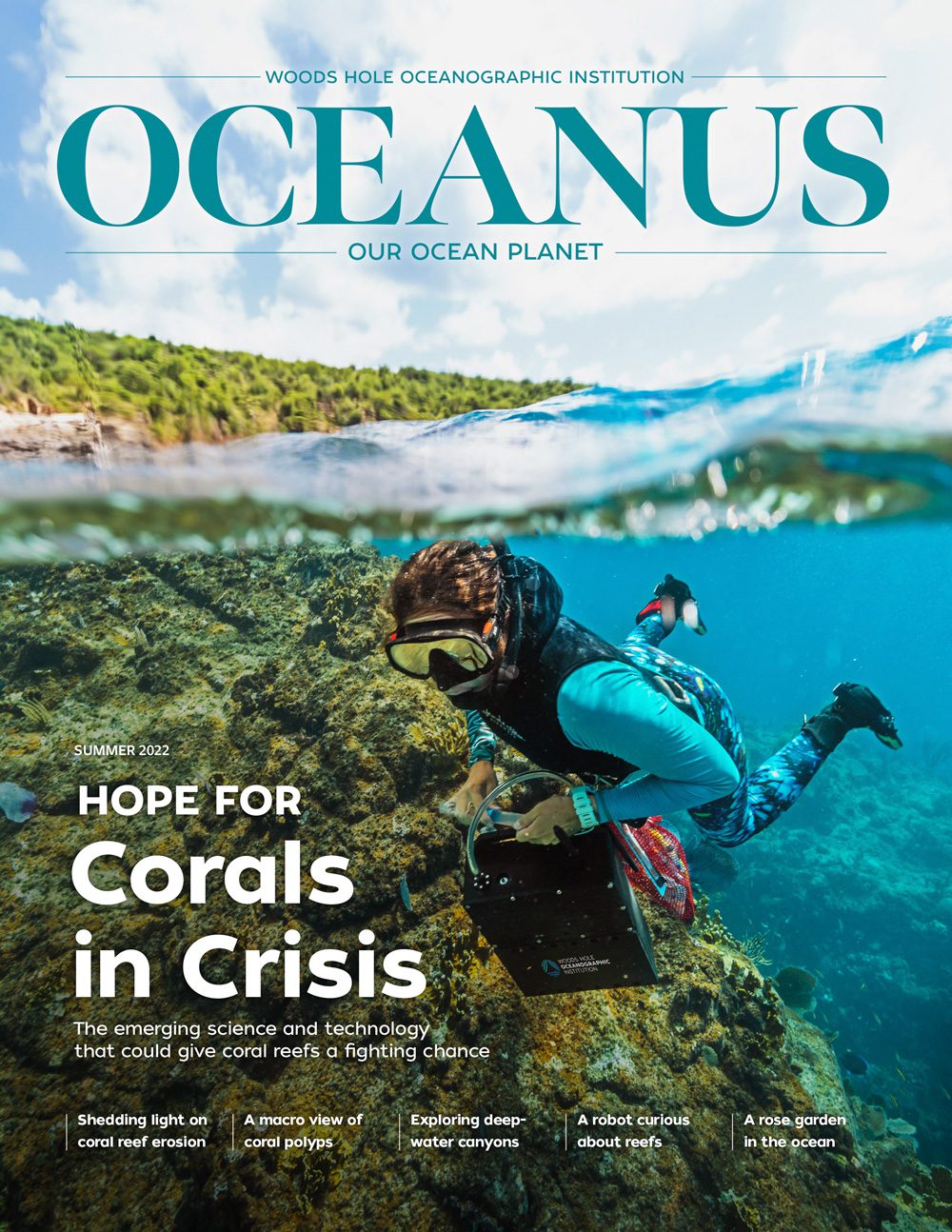 This article printed in Oceanus
Summer 2022
Estimated reading time: 2 minutes
Alexis Rosenfeld felt as if he were drifting down into a massive underwater rose garden.
The French underwater photographer was leading a United Nations-supported scientific mission off Tahiti in January when he and a team of divers encountered a surreal sight below their fins: hundreds of pristine, rose-shaped corals, some as wide as a sofa, sprawling across the seafloor.
"They looked like huge flowers," said Rosenfeld. "It was completely crazy—I had never seen a reef like that with 70-100 percent coral cover."
The discovery of the pristine, two-mile-long reef was unique in that it was found at a depth of about 100 feet—roughly 30-60 feet deeper than where most tropical reefs sit. The ocean is often dimly-lit at that depth, but the reef receives enough sunlight to grow and reproduce thanks to the crystalline waters of French Polynesia. The reef's location could also help explain its flawless, untouched appearance.
"Most recreational divers don't dive that far down, so these corals have likely been left alone for hundreds of years," said Konrad Hughen, a climate scientist and coral researcher at WHOI. "The water does heat up down there, but it mixes with deeper and cooler water which can help prevent coral bleaching which often impacts corals closer to the surface."
The discovery is a sunny spot in an otherwise gloomy forecast for corals. A number of recent reports have suggested that all of the planet's coral reefs could be gone by the end of this century. Warmer ocean temperatures, ocean acidification, and overfishing are just some of the stressors bearing down on reef ecosystems around the world.
"This new reef is a very positive sign," said Hughen. "It gives us optimism knowing that healthy, undiscovered reefs like this do exist."
Hughen says the reef is an important reservoir of biodiversity, and that it may provide recruits to help damaged reefs near the surface regrow. That could prove beneficial since some of the shallower reefs off Tahiti experienced significant bleaching after a two-month wave of heat stress in 2019.
The presence of the reef begs the question of how many other undiscovered coral reefs exist in the global ocean. Hughen says its anyone's guess—he believes there could be thousands we don't know about yet. The problem, he points out, is that only 20 percent of the ocean has been mapped.
"It's shocking that we know the surface of Venus better than our own ocean," said Hughen. "Mapping is incredibly important so we know in detail what is here, especially in places that are deeper than people typically go to explore with their own eyeballs."
Rosenfeld agrees, and suggests that the discovery could help temper some of the dire claims made about coral reefs.
"Over the past few years, all you hear about is how all the corals are dying and that they're all finished," he said. "But clearly, we don't know about all the reef ecosystems that are out there yet. It's important to continue this type of exploration."