A coral reef kickstart
WHOI's Reef Solutions Initiative takes a multi-disciplinary approach to investigate solutions for ailing coral reefs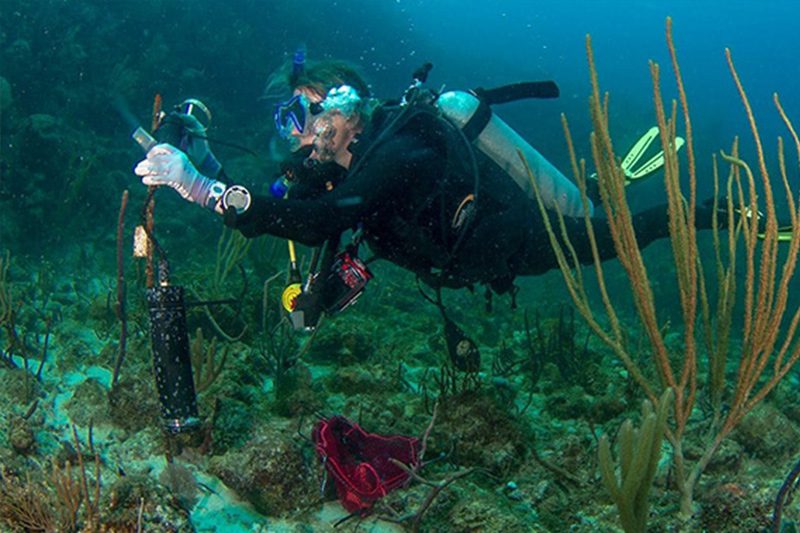 Estimated reading time: 3 minutes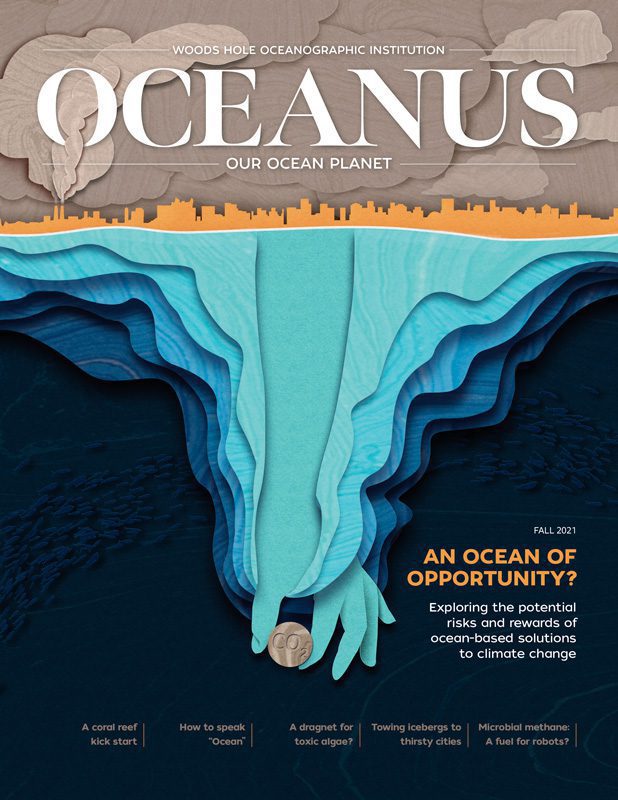 This article printed in Oceanus
Fall 2021
Probiotic pastes, robotic sentries, and nutritional supplements may be the future of coral reef research and conservation, with the help of a major WHOI-led initiative.
In the past 30 years, more than 25% of the planet's coral reefs have vanished. Today, 67% of what remains is predicted to suffer the same fate, compromising 500 million jobs and $375 billion in goods and services worldwide. The culprit is a trifecta of climate-driven threats: warming oceans, acidification, and an intensifying range of diseases.
But traditional reef surveys using a combination of scuba divers and satellite imagery haven't come close to understanding and relieving the vast and complex problems now facing corals. Today's experts say this tedious methodology hasn't changed in years, largely due to funding constraints.
"For decades, coral reef scientists have operated on really shoestring budgets that only allow them to take their minimal field gear, which is often underwater slates and simple camera systems, out to the reefs," says WHOI marine ecologist Amy Apprill. "This has resulted in documentation of reef change, but hasn't given us any information about the reasons behind the changes."
To take reef science from a few boats to an active observation network, a cohort of seven WHOI investigators, including Apprill, formed a WHOI catalyst team and launched the Reef Solutions Initiative. Beginning October, 2021 in the U.S. Virgin Islands, this multiyear venture has started to fund a slew of reef-based engineering, monitoring, and restoration projects in the hopes of creating a blueprint for an international coral reef observation and diagnostics network.
"We need interdisciplinary collaboration and new technologies to elevate coral reef science to the next level," adds Apprill. "We need to move beyond the status quo and build new sensors and platforms that allow us to get better, more comprehensive data at even higher resolutions."
Inside the team's toolkit are a suite of technologies designed for diagnosing nearly every aspect of coral reef health, from the sounds of a healthy ecosystem to the invisible pheromones of distressed corals. Among them is DISCO, a portable sensor capable of measuring fast-acting chemicals produced by corals when they experience stress.
"We need inter-
disciplinary collaboration and new technologies to elevate coral reef science to the next level."

-Amy Apprill, WHOI marine ecologist
For other co-investigators, like WHOI engineer Yogesh Girdhar, the complexity of coral reefs has provided a fun challenge for programming a new generation of autonomous underwater vehicles (AUVs). His team's WARP-AUV, a vision-operated vehicle, may become the first capable of navigating complex shallow-water reefs, mere inches away from fragile coral colonies. After testing it in the field, they hope to use the robot to expand the scale of reef observation from ad hoc scuba dives to around-the-clock surveillance by underwater drones.
"Coral reefs are extremely complex. There are so many species, so much visual diversity, acoustic diversity, and chemical diversity," says Girdhar. "So, for someone really interested in machine learning, like myself, this is a really cool space to build robots for."
As diagnoses are improved, some of the catalyst team's marine chemists and geochemists hope to disperse an ever-changing cocktail of nutritional supplements that could stave off coral illnesses and improve growth. Some treatments will require a more hands-on approach, including the application of probiotics, or beneficial microbial pastes, for corals suffering from stony coral tissue loss disease and other virulent sicknesses.
For the catalyst team, the initiative represents an opportunity for scientists and philanthropists to make a difference together at a time when many of these iconic ecosystems may be on the brink of collapse.
"There is a feeling that reef research is ready to move to an entirely new level," says Apprill. "We're doing everything we can to make it happen as quickly as possible. With the right partners, we could see a complete transformation of our knowledge and protection of reef ecosystems."