Profile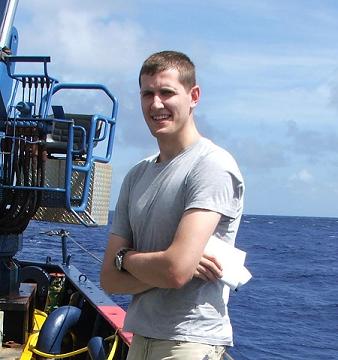 Eoghan Reeves
Guest Investigator
Marine Chemistry & Geochemistry
Office Phone: +49 4212 1865416
Home Mailing Address:
PRESENT ADDRESS:
Department of Geosciences
GEO Bldg. 4180, Box 207
University of Bremen
2 Klagenfurter Strasse
Bremen 28359
Germany

EMAIL:
ereeves at whoi.edu
reeves at uni-bremen.de
Education
CURRENT POSITION (2010 - ) MARUM Postdoctoral Fellow, Department of Geosciences, University of Bremen, Germany
Ph.D. Geochemistry (2010) MIT/WHOI Joint Program in Chemical Oceanography
M.Sc. Geochemistry (2004) University of Leeds, U.K.
B.Sc. Geological Oceanography (2002) University of Wales, Bangor, U.K.
Research Interests
Organic/inorganic geochemistry of hydrothermal vent fluids: experimental hydrothermal geochemistry, abiotic organic synthesis, carbon-sulfur interactions in hydrothermal fluids, magmatic volatiles in back-arc settings.
Ph.D. Advisor
Jeffrey S. Seewald
Affiliations
American Geophysical Union, American Chemical Society, The Geochemical Society, Ridge2000, Interridge
Awards
Ruth and Paul Fye Award for Excellence in Oceanographic Research Graduate Student Best Paper Award (2010)
The Sherwood Chang/Eliot Kalmbach Award for Student Poster Presentation, 2010 Gordon Research Conference on the Origin of Life
WHOI Deep Ocean Exploration Institute Graduate Fellowship
[back]