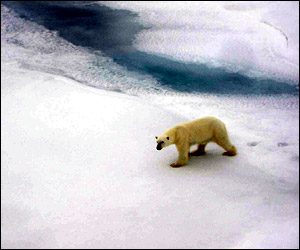 1. We sighted a polar bear far in the distance today.
2. The expedition Chief Scientist, Bon Van Hardenberg (Institute of Ocean Sciences, Canada) was sure that the bear would approach us.
3. Bon was right! The bear came right up to the icebreaker. Bon took a total of ninety-seven photographs of the bear.


4. Once the bridge announced the polar bear sighting, everyone rushed to the port side of the ship, enthusiastically taking pictures, jumping, and talking.
5. Motoya Ito from JAMSTEC has discovered the best place to observe polar bears - from the safety of the ship!
6. Another photo of the bear, with his tracks in the background.

7. The polar bear sniffs the water, preparing for a dive in.
8. Celine Gueguen (International Arctic Research Center) takes pictures of the polar bear from one of the best vantage points.

9. The sea ice is too thin to support the visitor (right). Male polar bears can weigh up to 500 kg (1,100 pounds).
10. This is a polar bear!!! Linda White, Institute of Ocean Sciences, is ecstatic about the sighting.