Featured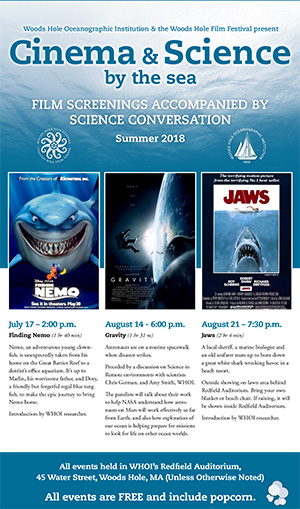 July and August
Redfield Auditorium, Woods Hole Oceanographic Institution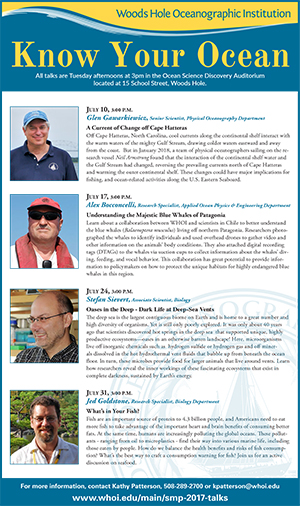 Tuesdays in July and August at 3:00 p.m.
WHOI's Ocean Science Discovery Center Auditorium, 15 School Street, Woods Hole
Calendar of Events

Other Events and Notes of Interest
PEANUT BUTTER CLUB: August 17
Presents Simon Ryder-Burbidge who will present "I thought the horseshoe crabs were part of my family": Investigating ocean connectivity and coastal values in Falmouth, Massachusetts" on Friday, August 17, at noon, in Redfield Auditorium, 45 Water St., Woods Hole. Determining how citizens relate to the coastal zone is as an important element of coastal governance today. Previous research has identified several indicators to examine connections between coastal communities and marine environments, but do those data reflect the perceptions of the people who live there? A growing body of literature points to the importance of integrating public perceptions into coastal decision-making processes. Here, a 2017 survey conducted in Falmouth, Massachusetts acts as a case study, investigating how residents perceive connections to the ocean. Results point to strong sensory and place-based attachments to the marine environment and a variety of social values tied to the coast. Analysis includes recommendations on how public perceptions data can be used by science communicators and coastal planners, and identifies relational values as a means to frame connections in broader public discourse. This study suggests that public perceptions could provide the foundation for a community-based Ocean Connectivity Index, to better understand how social values relate to spatial parameters in coastal areas. Sponsored by the WHOI Visitor Center. Coffee, tea, and cookies served. Donations accepted.
PEANUT BUTTER CLUB: August 24
Presents part two of the video "Into the Amazon" on Friday, August 24, at noon, in Redfield Auditorium, 45 Water St., Woods Hole. Into the Amazon tells the remarkable story of President Theodore Roosevelt's journey with legendary Brazilian explorer Candido Rondon into the heart of the South American rainforest to chart an unexplored tributary of the Amazon. Sponsored by the WHOI Visitor Center. Coffee, tea, and cookies served. Donations accepted
WOODS HOLE PUBLIC LIBRARY: Week of August 13
On Monday August 13, at 7:30 p.m., Brian Engles, will speak at library about his new novel Wildball.Fans of local summer baseball are sure to be intrigued by this book. Brian Engles grew up in Falmouth before attending Boston University to earn a degree in film & television. His debut novel Wildball was just published in April of 2018. Its summer baseball backdrop was indeed inspired by the Cape Cod Baseball League whose games Brian has attended his whole life. The next in the series of Lassalle Dance Lectures will be held on Tuesday, August 14, at 7:30 p.m., at the library. This series reflects a complete change from the recent talks about classical ballet. It will feature two currently performing, award-winning hip hop dancers, "The Wondertwins." They will be coming over to Woods Hole from The Yard on Martha's Vineyard to give a talk entitled "Hip-Hop in the 21st Century (and Before)." The library will be holding its biggest book sale of the season, starting on Saturday, August 18, at 10 a.m. The sale will run on the first day till 5 p.m. After that, it will continue during regular library hours. The "Book Sale" volunteers have been very busy preparing for this sale. Most of the books are recent gifts to the library, donated especially for the sale. Newcomers to the sale will be surprised and delighted at the careful arrangement and universally low prices. (The base price for hard-backs is $2). Even the "higher priced" volumes are very reasonable. For more information, call the library at
(508) 548-8961 or visit the website www.woodsholepubliclibrary.org.
WOODS HOLE PUBLIC LIBRARY: Week of August 20
The next in the series of Lassalle Dance Lectures at the library will be held on Tuesday, August 21, at 7:30 p.m. It will feature Adam Weinert, a performance-based artist born and raised in New York City. He began his training at The School of American Ballet and continued on to Vassar College, The Juilliard School, and New York University, where he recently earned a Master's Degree under the tutelage of André Lepecki. Adam has danced with The Metropolitan Opera Ballet Company, The Mark Morris Dance Group, Shen Wei Dance Arts, and Christopher Williams and for six years, served as the Artistic Associate to Jonah Bokaer. Keith Gessen will be speaking in Woods Hole as a part of a national book tour introducing his new novel "A Terrible Country." This is his second book, ten years after his celebrated debut, "All the Sad Young Literary Men." In the meantime, he has founded the magazine n+1. Mr. Gessen's talk will be held in the library on Wednesday evening, August 29, at 7:30 p.m. The event is free and open to the public. Eight Cousins Book Store will be in attendance, offering Mr. Gessen's book for sale. He, of course, will be happy to autograph the copies. For more information, call the library at (508) 548-8961 or visit www.woodsholepubliclibrary.org.
SKYLARK SPOTLIGHT RECITAL: August 25
Opens its 2018-19 season with a Skylark Spotlight recital by soprano Fiona Gillespie Jackson. Gillespie Jackson's recital, Bold Outlaw, is a musical exploration of the legend and history surrounding Robin Hood, featuring folk, Medieval, and Renaissance music from France and the British Isles. Gillespie Jackson brings with her the talents of three additional musicians – her sister, Genevieve Gillespie, a Celtic fiddler and vocalist; Paul Morton, a versatile musician with extensive experience in classical guitar, theorbo, and lute; and tenor Bradley King. Bold Outlaw will be presented on Saturday, August 25 at 7 p.m., at Church of the Messiah in Woods Hole. Tickets are $20 general admission/$10 students and music educators
MIDDLE EAST FORUM OF FALMOUTH: August 26
On August 26 from 5-6 p.m., at the Church of the Messiah, Church Street, Woods Hole, there will be a lecture titled "Why is the Israeli-Palestinian Conflict Resistant to Resolution and What Should be Done?" by Prof. Nadim Rouhana. All are welcome to attend. For details, to join an email list, or to donate, visit their website www.MEFF.world (MEFF is a 501(c3) nonprofit).
WOODS HOLE COMMUNITY HALL
Presents "The Terrible Infants" on August 18 and 19 at 4 p.m. A series of twisted tales for all ages. Tickets are $15 and $5 for ages 16 and under. This event is presented by the Woods Hole Theater Company. On August 18 at 7:00 p.m., the Community Hall presents "Summertime Blues" featuring Les Sampou and Dawna Hammers. Tickets are $15 at the door. These events are held at the Woods Hole Community Hall, 68 Water Street, Woods Hole, Mass.
CINEMA & SCIENCE BY THE SEA: August 21
On Tuesday, August 21, at 7:30 p.m., the Woods Hole Oceanographic Institution and the Woods Hole Film Festival will be showing the film Jawsoutside on the lawn area behind Redfield Auditorium, 45 Water Street, Woods Hole, Mass.A local sheriff, a marine biologist, and an old seafarer team up to hunt down a great white shark wrecking havoc in a beach resort. Bring your own blanket or beach chair. If raining, it will be shown inside Redfield Auditorium. Prior to the film, there will be an introduction by a WHOI researcher.
WHOI OCEAN SCIENCE DISCOVERY CENTER & GIFTSHOP:
Located at 15 School Street, Woods Hole, is open daily, 10 a.m. - 4:30 p.m. For more information, call (508) 289-2663. WHOI merchandise is available year-round by visiting our online store at http://shop.whoi.edu/.