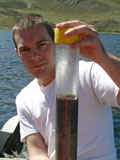 Sebastien Bertrand
Postdoctoral Fellow
Marine Chemistry & Geochemistry
Office Phone: +1 508 289 3217
WHOI Mailing Address:
Woods Hole Oceanographic Institution
266 Woods Hole Rd.
MS# 25
Woods Hole, MA 02543-1050
Education
Ph.D. University of Liege, Belgium, 2005, Sedimentology of lake systems and Paleoclimatology
M.Sc. University of Liege, Belgium, 2002, Geology
Research Interests
- Multiproxy sedimentary record of climate change and tectonics (lakes and continental margins)
- Paleoclimatology of southern South America
- Inorganic geochemistry, bulk organic geochemistry, grain-size, mineralogy, physical properties of sediments
Personal Statement
My research interests focus on the sedimentary record of climate variability and the associated environmental changes, based on a variety of sedimentological and geochemical proxies. I am especially interested in generating high-resolution paleoclimate and paleoenvironmental records from the mid- and high-latitudes of the Southern Hemisphere, since this part of the world has been relatively understudied but plays an important role in our understanding of Earth's climate variability.
Affiliations
European Geosciences Union (EGU)
American Geophysical Union (AGU)
International Association of Sedimentologists (IAS)
[back]