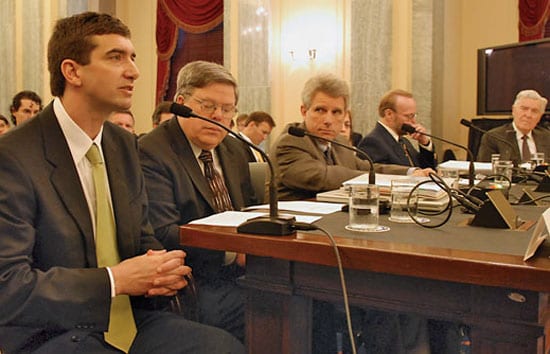 WHOI Scientists Testify to Congress
Ocean acidification and wind power are the topics
Marine geochemist Scott Doney and marine policy specialist Porter Hoagland traveled to the nation's capital this spring to inform Congress about critical ocean issues: the effects of climate change and ocean acidification on living marine resources and issues sur-rounding the siting of wind power in the ocean.
"Climate change and acidification trends will accelerate over the next several decades unless there is deliberate action to curb greenhouse emissions," Doney said in his written testimony in May to the U.S. Senate Committee on Commerce, Science and Transportation's Subcommittee on Oceans, Atmosphere, Fisheries, and Coast Guard. "Rising atmospheric carbon dioxide and climate change produce upper-ocean warming, sea-ice retreat, sea-level rise, ocean acidification, altered freshwater distributions, and maybe even stronger storms.
"… Further pressure will be put on living marine resources, such as fisheries and coral reefs that we depend upon for food, tourism, and other economic and aesthetic benefits. We have an opportunity now to limit the negative impact of climate change and acidification in the future."
In April, Porter Hoagland testified before a joint hearing of the U.S House of Representatives' Subcommittee on Fisheries, Wildlife and Oceans and Subcommittee on Energy and Mineral Resources Committee on Natural Resources.
In his written testimony, he said, "Like good cropland, ocean space with the right qualities (for wind farming) may be a scarce natu-ral resource. As a consequence, ocean space useful for wind farming or other renewable energy production may have economic value. Further, ocean space may have value for other human uses, including commercial fishing, marine aquaculture, recreation, environmental conservation, shipping, among many others.
"… There is no private market for ocean space. Specialized institutions must be devised, if they do not yet exist, for allocating ocean space for renewable energy development. The existence of institutions to establish legal interests in ocean space and to provide a means for enforcement against any infringement of these interests is critical."
Read their complete testimonies at www.whoi.edu/page.do?pid=7497.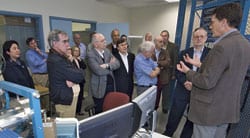 G-8 science agency chiefs meet at WHOI
In an unusual honor, WHOI was selected to host the annual meeting of the Heads of Research Councils of the G-8 countries in May. It was the first time the group held its meeting at a research institution.
Leaders of the science-promotion and science-funding agencies of the world's eight largest democracies and economies (known as the Group of Eight, or G-8 Nations) meet in each country on a rotating basis to discuss global and science policy topics of common interest.
This year, Dr. Arden Bement, director of the U.S. National Science Foundation, officially hosted the science agency heads from Canada, France, Germany, Japan, Russia, the United Kingdom, and the United States (the Italian delegate was unable to attend)—plus the head of the new European Research Council, headquartered in Brussels, Belgium—in Fenno House at WHOI.
The next day, the group heard presentations from WHOI scientists on polar and International Polar Year research and on Nereus, a new underwater vehicle being developed at WHOI. They also toured the National Ocean Sciences Accelerator Mass Spectrometer facility on the Quissett campus.