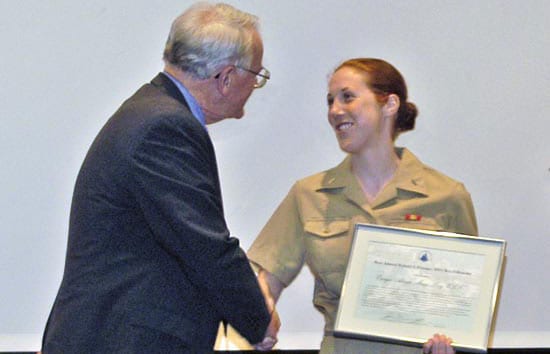 Pittenger Fellowship Awarded to Naval Graduate Student
|
WHOI presented its first Rear Admiral Richard F. Pittenger Fellowship in March to Ensign Allison Berg, a master's degree candidate in the MIT/WHOI Joint Program.
The Pittenger Fellowship, to be awarded annually to a U.S. naval officer in the Joint Program, was established to honor the Institution's former vice president of marine operations, who retired in 2004 after 14 years at WHOI and 32 years in the Navy, including a tour as Oceanographer of the Navy. He is a strong advocate for science and engineering education for naval officers.
"It is an honor to be presented with an award that recognizes such a great naval officer," said Berg. "I am grateful for Admiral Pittenger's service to our country, as well as his genuine efforts at WHOI." Berg will work with WHOI Research Specialist Eugene Terray on a project using Sonic Detection and Ranging (SODAR) to detect air-sea interactions.