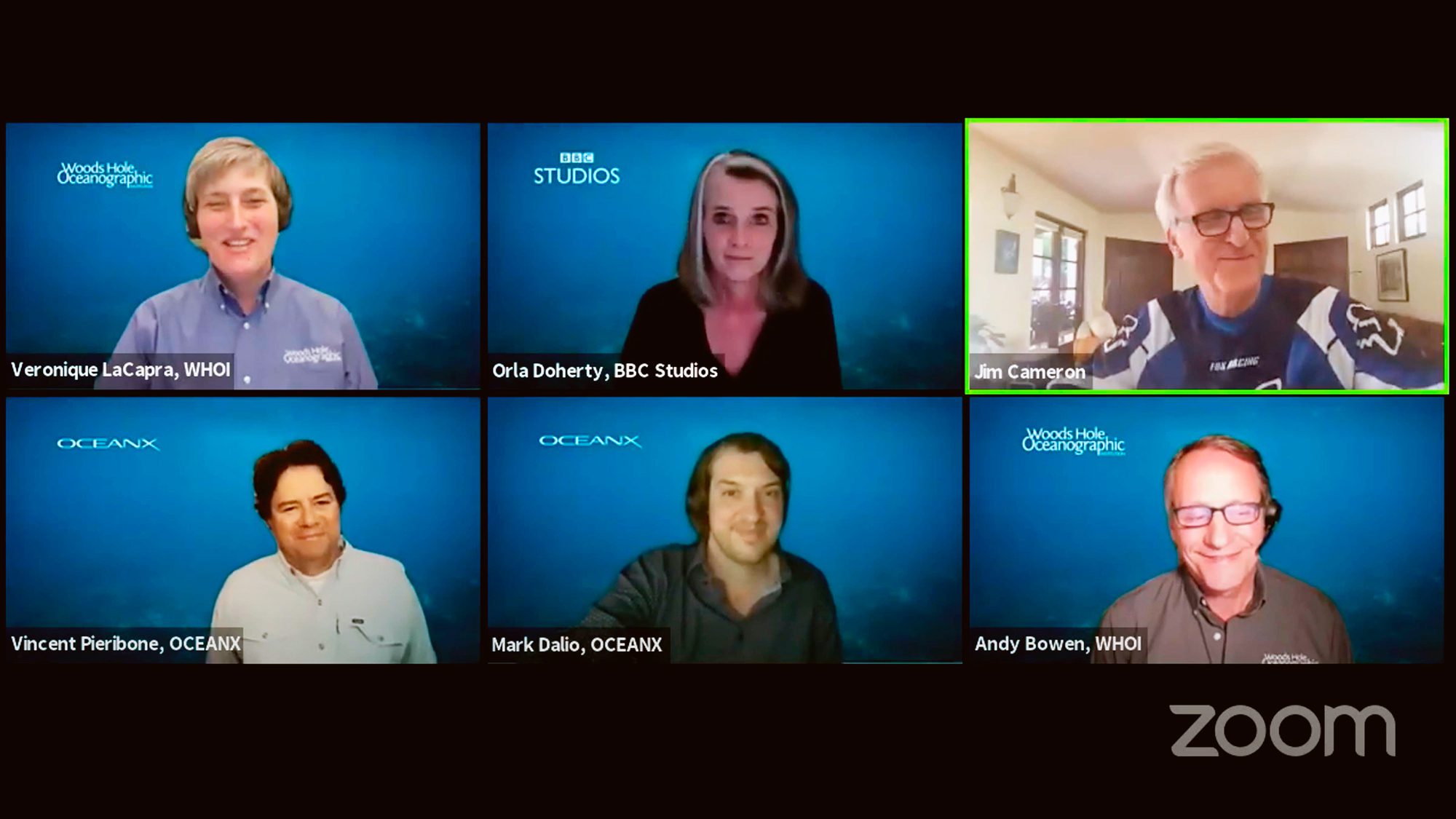 How to speak "Ocean"
Major communications initiative aims to bridge gaps in ocean literacy and awareness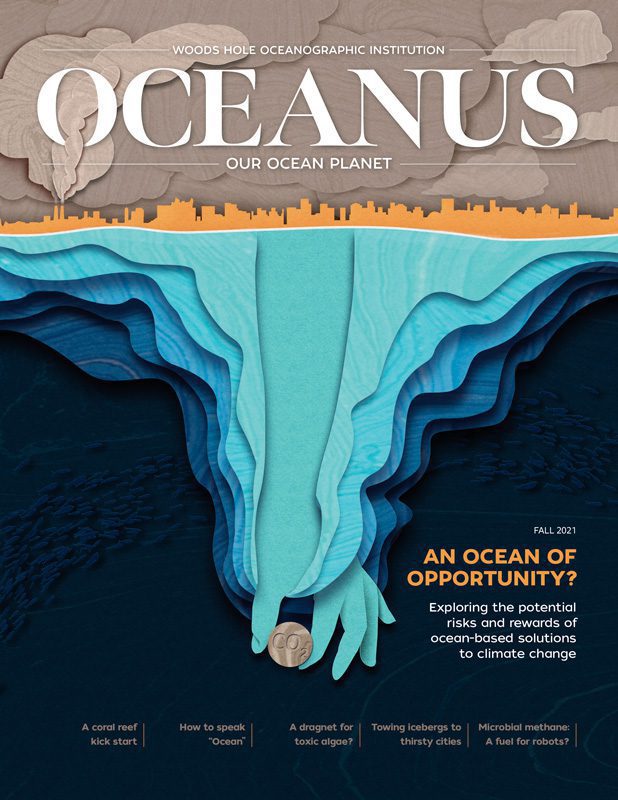 This article printed in Oceanus
Fall 2021
Estimated reading time: 4 minutes
In the late 1970s, scientists sounded the alarm: an area of the ozone layer that protects Earth's atmosphere was severely depleted above Antarctica, and getting worse every year. The culprit? Chlorofluorocarbons (CFCs) used in aerosol sprays and refrigeration. If left unchecked, scientists warned, the hole could spread, subjecting humans, plants, and wildlife to extremely harmful ultraviolet rays. Despite the looming shadow of the Cold War, the world paid attention. By 1989, 196 nations had signed an agreement to phase out and ban products containing CFCs.
To Sam Harp, WHOI vice president of advancement, this kind of international cooperation is an example of effective communication from scientists to policymakers and the general public. Fast-forward 30 years, the ozone layer is now at pre-1982 levels-but catastrophic climate change and ecosystem decline are facts of modern life. A massive, collaborative communications effort about the importance of the ocean and its role in regulating the climate could have a similar impact, Harp says.
"Science is not finished until it's communicated," says Harp, borrowing a phrase from Sir Mark Walport, a former Chief Scientific Advisor of the United Kingdom. "It's part of our responsibility as a scientific research institution to reach the broadest possible public, and in some ways, to inform and enlighten policymaking. We're striving for breakthrough awareness about the ocean, addressing fundamental questions of ocean literacy."
To turn the tide of awareness about our blue planet, WHOI has launched the Ocean Communications Initiative (OCI), a "virtual hub" for storytelling, translational research, and scientist-led outreach. Founded in 2020 during the coronavirus pandemic, OCI first made waves with WHOI's wildly popular Ocean Encounters series, a live-streamed event in which audiences around the world tune in to discussions between marine scientists, engineers-and the occasional celebrity.
"Through Ocean Encounters, we're finding there's a huge appetite to learn about the ocean and related subjects," says Danielle Fino, WHOI's Chief Communications Officer. "We're reaching audiences of all ages, and that allows us to continue engaging with them about the research we're doing. Instead of the ocean being this dark, scary place, they start to see the ocean as a hero. It's facing a lot of challenges right now, but ultimately it holds solutions."
As part of OCI, WHOI is also expanding its website to become the go-to source for all things "ocean." New features in development include the Ocean Learning Hub, featuring articles, videos, and interactives for students of all ages, and a "Did You Know?" section serving up bite-sized answers to questions we all should know (but maybe don't), like "Why is the ocean blue?"
One of the greatest challenges in science communication is making abstract concepts and remote environments relevant to people. But as movies like Away or Apollo 13 have demonstrated, people are inspired to care about alien places if their imagination or emotions are triggered. And that's the strategy behind WHOI's Keep It Weird campaign, a communications initiative that invites viewers to learn about the "weird and wonderful" midocean twilight zone by taking a personality quiz that matches them to a creature who lives there.
"The problem we were solving for was the fact that essentially no one has heard of the ocean twilight zone. They will never see it with their own eyes. It doesn't seem to affect their daily lives. So, why on earth should they care about it?" says Harp. "The way we solved for that in the end was to create a sense of personal affinity with this very 'other' and inaccessible world. So, when you next hear mention of an anglerfish, there is a sense of recognition there. It matters to you."
A key element of OCI is to support outreach coming directly from the WHOI science community. The newly created Ocean Communications Fellowship offers salary support for researchers to work on videos or books, give talks to the public, or otherwise engage with diverse, nonscientific audiences. A planned Translational Research Grant Program will broaden the impact of oceanographic research by funding related studies in fields such as economics, policy, and communications. The idea is that if the social or environmental impact is clear, scientific publications will become that much more relevant to policymakers and journalists.
In an effort to reach new audiences, some WHOI researchers already moonlight on social media. Jaida Elcock, a joint program student in the Braun lab and co-founder of the nonprofit Minorities In Shark Sciences (MISS), has gained a 20,000-strong following on Twitter @sofishtication (and 16.5K followers on TikTok) for her lighthearted videos about shark conservation.
"Younger people are the scientists of the future. TikTok is a place to have fun and engage with them," says Elcock of her mostly Gen-Z following. "The whole point of research is to learn new things about the world. If we're not sharing this knowledge, why are we even doing research? Especially for things that could affect policy decisions, science communication is unbelievably important."
Storytelling is key to helping people understand the ocean's role in their lives-and by extension, why science matters, says physical oceanographer Glen Gawarkiewicz. No stranger to working with the media, Gawarkiewicz has appeared in numerous documentaries and radio and newspaper stories-mostly related to his work with the Commercial Fisheries Research Foundation (CFRF), a nonprofit research collaborative established by the New England fishing community. Although the majority of his grants and publications do not come from CFRF, the societal relevance of this research motivates him to keep on telling the story.
"Science plays an important role in democracy," he says. "If we can't communicate, there's a lot we can't do. I see giant, giant potential for this initiative."