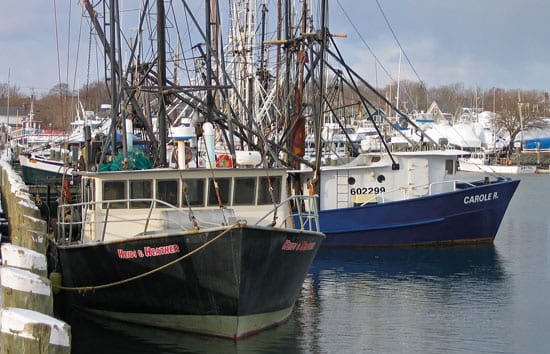 Do Fishing Regulations Lead to More Accidents?
Fishermen say yes; new study suggests no
Fishermen have argued that regulations about when and where they can catch fish have contributed to sinkings and fatal accidents at sea. But a recent statistical analysis by Woods Hole researchers has found no hard evidence to support that argument.
Di Jin of the Woods Hole Oceanographic Institution's Marine Policy Center and Eric Thunberg of the National Marine Fisheries Service (NMFS) examined 20 years of reports on the number of fishing trips, days at sea, serious accidents, and ship losses for fishermen from Virginia to Maine. They found that the accident rate for commercial fishing vessels in the northeastern United States has remained stable since 1994, when NMFS tightened regulations and limits on ocean fish catches.
The accident rate showed an overall downward trend from 1981 to 2000, the researchers reported in the October 2005 issue of Safety Science. The total number of accidents has declined over the years, while the number of vessels going to sea and the number of days they stay out has risen. Fishing remains one of the most dangerous occupations in America, with a death rate 16 times higher than that of police officers and firefighters.
Jin and Thunberg did find a slight increase in the accident rate around the Gulf of Maine (which borders Massachusetts, New Hampshire, Maine, Nova Scotia, and New Brunswick), but no specific regulation can account for the change.
"I certainly hear anecdotal evidence that fishermen are taking more risks and may be deferring maintenance on their boats, but these are not observable, so we can't test whether these actions have affected accident rates," Thunberg said.
"Regulations don't force fishermen to endanger their lives, but the economics of fishing certainly have changed," he added. "It is possible that some boats are making longer trips with fewer crew or taking more risks in tough financial times."
Topics
Featured Researchers