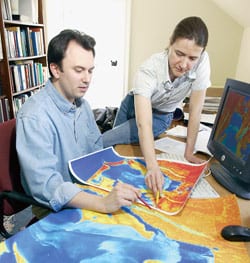 Matt Charette is an Associate
Scientist in the Marine Chemistry and Geochemistry Department
of Woods Hole Oceanographic Institution. Born in Boston and
raised in Lynn, Mass., he spent his summers on the beaches of
Truro on Cape Cod (a place he now visits for his groundwater
research). Charette earned a bachelor's degree in chemical
oceanography from the Florida Institute of Technology and a
doctorate in chemical oceanography from the University of Rhode
Island. He came to WHOI as a Postdoctoral Fellow in 1998 and
was named an Assistant Scientist in 2000. His research focuses
on geochemical processes in coastal groundwater and their implications
for chemical fluxes to the coastal ocean.
Ann Mulligan
Assistant Scientist
Marine Policy Center
Woods Hole Oceanographic Institution
Ann Mulligan is an Assistant Scientist in the Marine Policy Center of Woods Hole Oceanographic Institution. She earned her bachelor's degree in geological sciences at Brown University, a master's in civil and environmental engineering from Tufts University, and a doctorate in environmental engineering from the University of Connecticut. Her research focuses on water resource management and modeling of groundwater flow and transport. In graduate school, Mulligan concluded that coastal water resources would become an increasingly important issue as development along the coast continues to occur at a rapid pace. She decided to come to WHOI to focus on coastal water resource problems.
Groundwater discharge appears to be an important factor for determining the chemistry of the coastal…