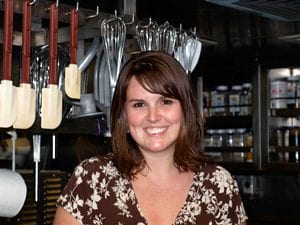 One of Kathryn Eident's first memories of the Woods Hole Oceanographic Institution was formed at the age of nine in the middle of the night. Excited to be up so late, she watched as a ship appeared out of the darkness and tied up to the dock. It was the research vessel Oceanus, returning from a trip off Iceland where scientists were studying currents. Her father, onboard as chief engineer, regaled her with stories of life at sea and tales of exciting discoveries.
She never got the salt and science out of her blood. After college, she spent six week on the tall ship Corwith Cramer with the Woods Hole-based Sea Education Association. While learning the finer points of seamanship (like eating ginger candy to thwart seasickness), she tested whether mesoscale eddies affected the migratory patterns of the Caribbean spiny lobster. It was hard work, and she loved every minute of it.
Soon after, she joined her father and brothers in a family tradition of sailing for WHOI. Over the next five years, she worked on all of the institution's ships, regularly sitting in on science meetings, corralling scientists in the passageways, and haunting the labs. Between voyages, she earned a master's degree in journalism at Boston University. Since then, she has written for The Boston Globe, Cape Cod Times, Scientific American, Cape and Plymouth Business Magazine, and Oceanus magazine. She was also the news director at four, locally owned radio stations. Today, she satisfies her need for "vitamin sea" as a science and development communications writer at WHOI, and with plenty of kayaking and boating trips in local harbors.
Over its 44-year career, the retiring research vessel Knorr was on the scene for many…
On a cold, blustery day in April 1997, hundreds of people swarmed Iselin Dock at…
Dave Ross should have been sleeping. He was on a research ship in 1975, at…
<!– –> Among the odds and ends in Rick Trask's office is the tip of…
Barely a month after the undersea robot ABE imploded and was lost in the depths,…