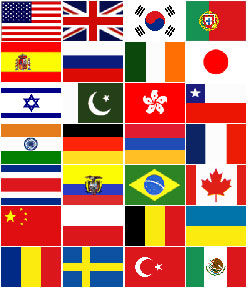 Related Multimedia

Related Links
Welcome to WHOI
The International Committee welcomes you to the Woods Hole Oceanographic Institution (WHOI). This committee provides support and assistance that can help you to become acclimated to the Institution and to the community. We have a variety of volunteer services that can be found at our Community Helpers link on this site and we will keep you informed of upcoming functions sponsored by the committee, and encourage you to attend these fun and informative events where you will meet other members of the WHOI community and other international friends.
This website is a helpful tool for finding information about the assistance, resources and activities available through our Committee and in the Woods Hole/Falmouth area.
We have a group of volunteers that can provide assistance to you and your family during your stay. Our volunteers can provide opportunities for conversational English, carpooling, and tours of the local area. To find more about these services please see our Community Helpers and English Assistance sections.
International scientific exchange is important to oceanography providing opportunities for interactions between the world's scientists, access to data around the globe, and literature and theories developed within diverse cultures. There are currently close to 200 foreign nationals at the Institution adding to this process of scientific exchange. While you are here you will learn not only from your colleagues but also from your contacts with other American people and institutions. We hope you take advantage of the opportunity to learn about a society and culture which may be new to you, and to teach others about the society and culture you represent. Your sponsor at the Woods Hole Oceanographic Institution (WHOI) will be your main contact for information.
The purposes of the International Committee and this website is to provide information about offices and people at the Woods Hole Oceanographic Institution who can help you with a variety of services, to introduce you to the town of Falmouth (in which Woods Hole is one of several villages), and to explain some of the United States government regulations which will affect you during your stay at WHOI. We hope that many of the questions you may have when you arrive in Woods Hole will be answered by these resources.
We provide a short list of emergency phone numbers and helpful WHOI phone numbers. If you have any questions during your stay at WHOI which cannot be answered by your sponsor or this website, please contact your department committee representative. We will help you, or refer you to someone who can.
PLEASE NOTE
Many changes have occurred within the US government regarding the responsibilities of foreign visitors after entering the country. For up-to-date information please visit the immigration section of the Human Resources department at WHOI and the Immigration and Naturalization Service of the government. You should sign in at the Human Resources Office no later than 3 days upon your arrival within the United States. Failure to do so can result in the invalidation of your visa. For important WHOI information regarding these matters please visit the Foreign National Office in Human Resources.
Resources
An additional resource for visitors to Woods Hole has been provided by the Woods Hole Diversity Advisory Committee; a joint project by WHOI, MBL, USGS, SEA, WHRC, & NOAA. Please see their site for more details.
The MIT/WHOI Joint program students also have a fantastic guide to help the newcomer settle in Woods Hole. The YaWHOI guide! A pdf version is available for download on the right hand side of this page.