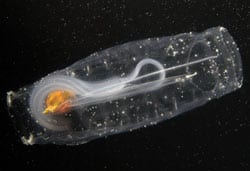 Transparent Salps May Play Conspicuous Ecological Role
|
WHOI biologist Larry Madin sped through space and time in December
2004—going from late fall in New England at WHOI to early summer in the
Southern Ocean aboard the R/V Laurence M. Gould. Madin led a
National Science Foundation-sponsored research expedition across the
Drake Passage and the Antarctic Circle. He and colleagues towed nets
behind the vessel and scuba dove day and night in -1°C (30°F) water
(though "night" in December in the Antarctic is only a brief dusk).
Their quest was salps—transparent, gelatinous
animals whose large populations contain both 10-centimeter-long
specimens (right) and colonies that form chains several meters long.
The researchers sought to learn the rudiments of this little-known
southern hemispheric species: how much they eat, how fast they
reproduce, and how much organic matter they transport to deeper water.
Salps
can quickly generate massive populations that consume microscopic
marine plants called diatoms. In some years, salp swarms may replace
krill, which also eat diatoms. But while krill provide a rich, critical
food source for whales and penguins, salps provide little nutrition.
Scientists
speculate that global warming may favor salps over krill because
diminishing sea ice provides less shelter and food for young krill.
Madin's group will revisit the area next February to continue to learn
more about salps' role in the fertile Southern Ocean ecosystem.