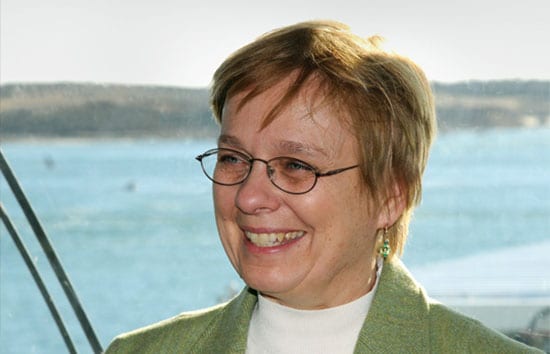 Susan Avery Takes the Helm at WHOI
Avery is first atmospheric scientist (and woman) to lead the Institution
With the first hints of autumn reaching Woods Hole last October, change of a different sort was in the air. On the same day that Harvard University trumpeted the installation of its first woman president, the Board of Trustees of Woods Hole Oceanographic Institution (WHOI) announced that Dr. Susan K. Avery had accepted the position of president and director of the Institution. Avery is the ninth director and the first woman in WHOI's 78-year history to hold the position.
Avery is an atmospheric physicist with extensive experience as a leader within scientific institutions. She comes to WHOI from the University of Colorado at Boulder (UCB), where she was interim dean of the graduate school and vice chancellor for research. She previously served as director of the Cooperative Institute for Research in Environmental Sciences (CIRES), a 550-member collaborative institute between UCB and the National Oceanic and Atmospheric Administration (NOAA).
"Much has been made about the fact that I'm the first female president and director of WHOI, but I think it's more remarkable that I'm the first atmospheric scientist in this position," Avery said. "But the time is right to take a new approach. The next decade will be a 'climate decade,' and the oceanographic and atmospheric science communities, working in partnership, can make greater contributions to the policy discussions and research direction on global warming issues."
Avery's research interests include studies of atmospheric circulation and precipitation, climate variability, and water resources, and the development of new radar techniques and instruments for remote sensing. As director of CIRES, Avery worked with NOAA and the Climate Change Science Program to help formulate a national strategic science plan for climate research.
Avery, who earned her doctorate in atmospheric science from the University of Illinois in 1978, has been a member of the faculty of the University of Colorado at Boulder since 1982, most recently holding the academic rank of professor of electrical and computer engineering. She has participated in field expeditions in Greenland, Antarctica, and Australia, and she has a keen interest in scientific literacy and the role of science in public policy.
"We're very pleased to have Susan onboard as the new president and director," said Newton Merrill, chairman of the WHOI Board of Trustees. "She is renowned for her skill in bringing together researchers from different backgrounds to approach scientific problems in new ways and possesses the right combination of scientific and administrative leadership to lead WHOI into the future."
Avery officially took office on Feb. 4, 2008, succeeding James R. Luyten, who has served as acting president and director since June 2006, and Robert B. Gagosian, who served as director from 1993 to 2006.
After her first month on the job, Avery said she is energized by the interactions she has had with scientists, engineers, federal agency leaders, and policymakers.
"Understanding the ocean has never been more important to society," she said. "We depend on it for food supplies, minerals, energy resources, shipping, and recreation. It is host to diverse ecosystems and is tightly coupled to our climate and weather. The work we do at WHOI is critical to understanding all of these interconnections and the increasing effects of human activities on the ocean. We must be able to communicate our results to all elements of society, including the general public, resource managers, and policymakers."
"I'm also eager to advance the development of a network of global ocean observatories to enable systematic sampling of the oceans and to provide much-needed input for data-driven policy decisions," she said. "WHOI can't do this alone, so we will be developing new partnerships in a variety of arenas, with private industry, government, academia, and international organizations."
Meanwhile, Avery is looking forward to taking her first expedition aboard a research vessel in the near future—perhaps this fall aboard Atlantis in the Pacific, or aboard Oceanus on a reserach cruise to the Red Sea.
"I've conducted field research all over the world—but only on land," she said. "To experience scientific research aboard a WHOI ship will be a real thrill."