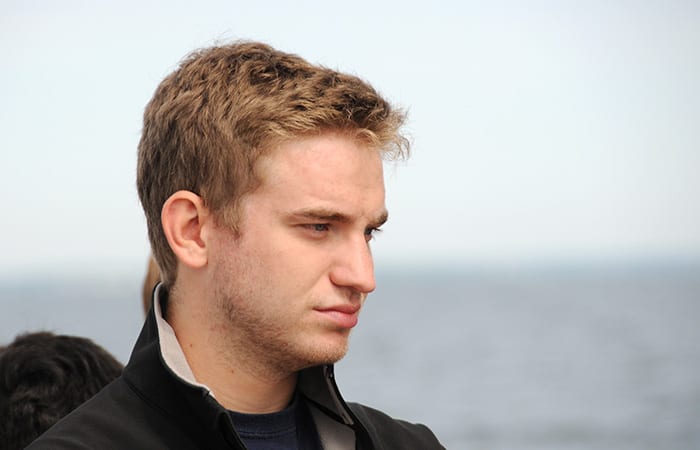 Surface Waters Go Their Own Way
Study reveals unexpected variation in surface flows
Sam Kastner has traveled to the beaches of Cape Cod every year for as long as he can remember. This summer he happily found himself back again, this time as a Summer Student Fellow under the supervision of Steven Lentz and Anthony Kirincich in the Physical Oceanography Department at Woods Hole Oceanographic Institution (WHOI). Kastner, who will be a senior at Skidmore College this year, is double majoring in music and physics. He devotes a large portion of his time at school studying turbulent mixing.
Although the ocean is thousands of meters deep, Kastner spent his time in the lab this summer analyzing water movement in just the top two meters. His goal was to compare the motions of waters at the ocean surface and deeper down in the same area. He did so by comparing high-frequency radar data, which measures water movement at the surface, with data from an Acoustic Doppler Current Profiler, which measures water movement at depth. He's made one discovery already—that water near the surface does not move in a steady, consistent way.
"We found that there is way more going on in the top two meters of the ocean, as far as velocity variability goes, than many researchers had assumed," he said.
Kastner believes this work will have implications for understanding onshore transport of both natural and human-made substances. For example, if they have a better idea of how water moves at different depths in the water column, scientists may be better able to predict the path of an oil spill or patterns of nutrients transported from deeper, offshore areas to shallower, coastal areas.
Kastner's background in physical oceanography from his work at Skidmore certainly gave him a leg up when processing his data in MATLAB, a program he has worked with in the past. However, he said spending his summer at WHOI has "doubled, or even tripled, my facility in the program." He also appreciated the people he found himself surrounded by this summer. "It's great to be in a community that really values ideas," he said.
In his free time, Kastner enjoys going to the beach and cooking whatever seafood he can get his hands on. He plans to spend his senior year completing a thesis related to physical oceanography, as well as continuing his studies in trombone performance and composition. Even though his two areas of study are worlds apart, he hopes to continue with both.
"It makes me really happy to play, so I don't think I'm ever going to stop," he said.
Kastner and his research were supported by the National Science Foundation.
From the Series
Featured Researchers