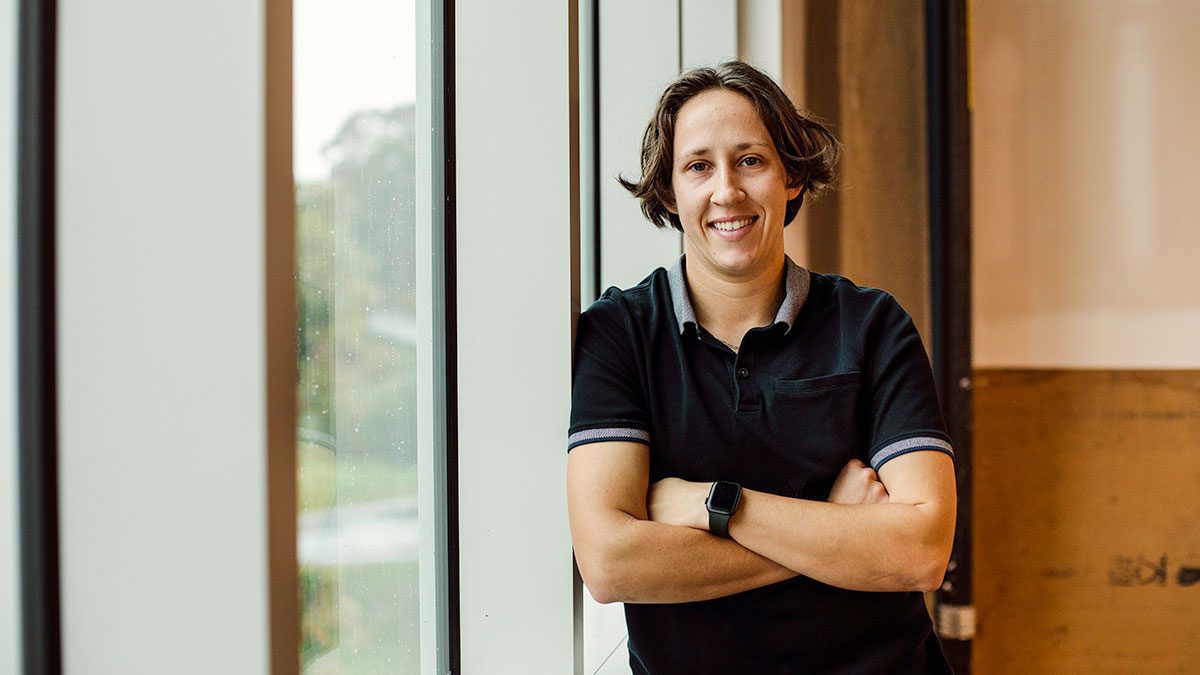 Sargassum serendipity
A surprise find connects MIT students working on solutions for a harmful algal bloom in the Caribbean
Estimated reading time: 5 minutes
On a broiling day last June, fishermen trawling the Caribbean Sea off of the Dominican Republic pulled up an unusual catch: a floating GPS surrounded by orange plastic fencing. The bizarre device contained a message : "If found, contact Chase Pixa…"
Back in Woods Hole, Pixa was checking email when a surprising message popped up in their inbox. The active-duty U.S. Navy lieutenant, enrolled as a master's student in the MIT-WHOI Joint Program, couldn't believe it: a fellow MIT student had found a device they'd released a couple weeks earlier off the coast of Puerto Rico to track sargassum. This golden-brown seaweed has proliferated in recent years in the Caribbean, washing up in huge amounts on beaches and interfering with nesting birds and turtles– as well as tourists' dream vacations. Like other types of algae, sargassum blocks sunlight from reaching corals, and when it decays, it sucks up oxygen from the water, killing marine life. On shore, the rotting seaweed releases hydrogen sulfide gas that can cause respiratory problems in humans and wildlife. While some amount of sargassum is expected, it's growing out of control: the peak of the bloom in June 2022 generated 24.2 million tons, breaking previous records.
To help track the harmful algae bloom, Pixa, along with WHOI engineer Kevin Manganini and advisor, Associate Scientist and Chief Scientist for Deep Submergence Anna Michel, designed a drifter to float with sargassum on ocean currents. Working with scientists from the University of Puerto Rico, Pixa dropped the drifter into a sargassum patch measuring 40 feet (12 meters) wide and two miles (3.2 kilometers) long off the island's southwestern coast. They watched the GPS track, pinging reliably every 10 minutes, as it floated northward and through the Mona Passage dividing Puerto Rico and Dominican Republic. Then, nine days and 155 miles (250 km) later, it stopped pinging.
"I was floored when I got the call," Pixa remembers. "It was a relief, but it was also mind blowing that it was another MIT student contacting me."
The fishermen that found Pixa's drifter were working for SOS Carbon, a start-up co-founded by Andrés Bisonó León, a Dominican native and graduate student at MIT's Sloan School of Business. With his background in mechanical engineering, Bisonó León is hoping to turn the sargassum problem into a solution for sequestering carbon. The company employs local fishermen to collect sargassum with a system they've developed and bring it back onshore for eventual processing into fertilizer or materials that can be used in cosmetics. Another idea is to pump the sargassum to a critical depth so it will sink deeper into the ocean. There, it may be consumed by fish and other animals–and the carbon it contains will eventually be stored in seafloor sediments.
A few months after its discovery, Bisonó León returned the drifter to Pixa in Cambridge. The chance encounter led to plans to hold a "sargassum stakeholder" meeting that will bring scientists and entrepreneurs together to tackle the issue.
"This is a huge crisis and we need all hands on deck," says Bisonó León. "If we can collaborate to understand where the sargassum is coming from, we can optimize operations and ensure further capacity down the line. This synergy can propel our common mission to transform the sargassum problem into a solution."
Enmeshed in orange plastic fencing, the sargassum drifter is a simple design for a complex problem. The two-pound device needs to be able to float with sargassum at the surface, so the buoyancy has to be just right. It also needs to avoid catching things that would weigh it down and sink, or potentially harm wildlife. Its solar panels, which enable data collection and connection to satellites, also need to stay free of debris in order to capture the sun's energy.
The key to horizontal drift turned out to be orange polypropylene plastic fencing that hangs down like tentacles to catch deeper pieces of seaweed and more closely match the natural drag of sargassum. A basket-like piece of fencing gives the device structure and a larger surface area that prevents flipping.
"We needed to make something that took on the characteristics of sargassum so we can track it accurately," Pixa says. "We tried different things, but of course, the easiest design worked the best."
And "easy" is actually the goal. Designed at WHOI's George and Wendy David Center for Ocean Innovation, and constructed in Puerto Rico with $200 worth of materials from Home Depot, Pixa hopes the simple design will enable researchers around the world to build and deploy similar drifters. Eventually, they say, the data could be integrated into an online platform like the Floating Algae Index, a database run by the Caribbean Coastal Ocean Observing System (Caricoos) that scientists use to model and predict harmful algal blooms. Currently, floating algae is tracked with satellite imagery, but Pixa says that method is limited.
"Our goal is to create a drifter that stays with the sargassum and can measure whatever scientists want," says Pixa. "It can be used to validate satellite data so you know for sure where the sargassum is going."
Phase two testing, planned for the sargassum bloom next spring, will include a light sensor that indicates whether the device is actually part of a sargassum mat (less light means it's surrounded by seaweed) and collect oceanographic data such as water temperature, carbon dioxide, and dissolved oxygen. Ideally, Pixa says, the sargassum drifter would be deployed off the coast of Africa in the early spring to help researchers in the Caribbean predict the when and where the bloom will take place—and alert SOS Carbon to go suck the seaweed up before it inundates the coast.