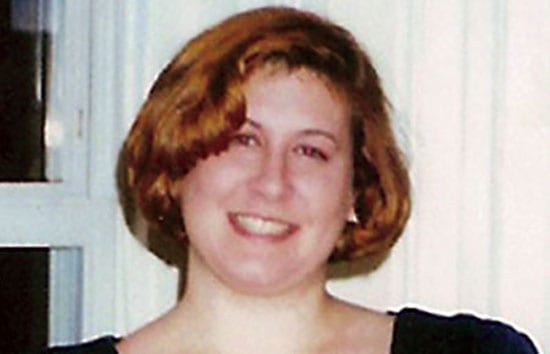 Institution Receives Surprise Bequest
Students, journalists benefit from other WHOI programs and development activities
A young woman who had been largely anonymous to the oceanography community has bequeathed a $14.5 million gift to Woods Hole Oceanographic Institution, the second-largest gift in the Institution's history.
Starting in 2006, four WHOI scientists will be chosen for annual fellowships to be named for Claudia S. Heyman, who listed the Institution in her trust before she died Nov. 13, 2004. She was 35.
The Institution's largest donation—a $28 million anonymous gift given in 2002—was used in part to establish four Ocean Institutes at WHOI. With the new funding from the Heyman fellowships, the Ocean Life Institute, the Ocean and Climate Change Institute, the Coastal Ocean Institute, and the Deep Ocean Exploration Institute will each select additional scientific fellows based on their leadership, their interest and ability to participate in interdisciplinary research, and their public outreach and communication skills.
Why Heyman left the money to WHOI remains a mystery, said Dan Stuermer, the Institution's director of development. "We know that at some point she either visited or read about WHOI and did some research about our scientists' work," Stuermer said. "We surmise that she was fascinated by the place."
Heyman, a native of Tulsa, Okla., who was living in Boston when she died, served on the board of her family enterprises and retained interests in several privately held oil and gas corporations, said her friend and attorney, Paul F. Zerola.
Zerola described her as an art enthusiast, avid reader, and a benefactor of animals who owned seven cats and a black Labrador named Hummer. "She cared deeply for her community," Zerola said. "She devoted much of her time and energy to humanitarian and charitable causes, and she constantly urged others to do the same."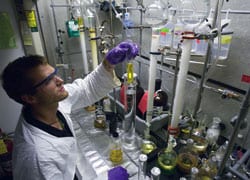 Distilling an Education
Byron Pedler (left) spent long hours this summer extracting and purifying compounds from dolphin fat, like a laborer in an 18th-century tryworks. Instead of boiling vats and flensing knives, his tools were glassware, solvents, and mass spectrometers. His end product was tiny amounts of hydrocarbons, rather than whale oil.
Pedler, a 2005 summer student fellow, worked with postdoctoral fellow Emma Teuten and Associate Scientist Chris Reddy of the Marine Chemistry and Geochemistry Department to determine concentrations of a brominated hydrocarbon compound in dolphin blubber. Once thought to be a contaminant, the hydrocarbon is now believed to be a natural component of dolphin food.
Since the late 1950s, the WHOI Summer Student Fellowship Program has provided a rich opportunity for research experiences to talented undergraduates interested in the ocean. Fellows in the program pursue an independent research project under the guidance of a member of the scientific or senior technical staff. To date, 984 students have participated in this program.