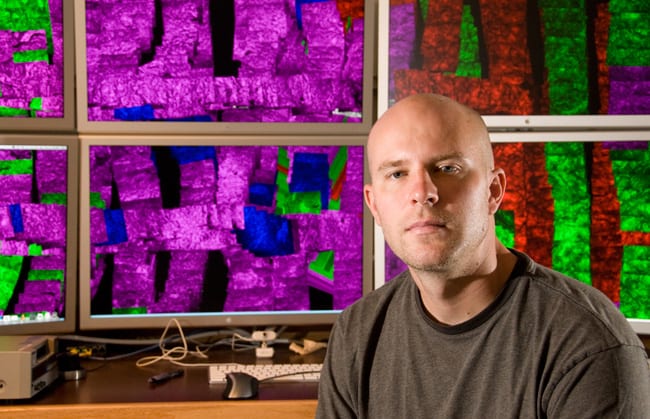 Garrett Mitchell developed a photomosaic of images from the southern Mid-Atlantic Ridge, the site of a recent undersea volcanic eruption, to create a new way to study how lava flows create features on the seafloor. (Photo by Tom Kleindinst, Woods Hole Oceanographic Institution)
Garrett Mitchell
|
For Garrett Mitchell, an interest in oceanography arose not in a university classroom but on a surfboard in the waters of California. Living there while taking a few years off from school, he became an avid surfer and diver and decided to turn a hobby into an academic pursuit.
At the University of Maryland, College Park, Mitchell earned degrees in geology and geography and spent time studying ocean mapping, particularly of mid-ocean ridges. In the fall, he returned there to study for his master's degree in geology.
This summer, he worked in the lab of marine volcanologist Adam Soule, developing a photomosaic of images from the southern Mid-Atlantic Ridge, the site of a recent undersea volcanic eruption. In 2006, Woods Hole Oceanographic Institution's autonomous underwater vehicle called ABE collected hundreds of images from around an unexplored region of the mid-ocean ridge. The hope was to use the physical appearance of the seafloor, rather than its bathymetry (or depth), to create a new way to study how lava flows create features on the seafloor.
Mitchell's job was to organize and color the images collected by ABE according to the lava flow structures he observed in each photo. He prepared the images to be sent to the University of Girona in Spain, where a unique kind of software could refine the images and create a workable map of the eruption zone. He also studied how the lava flows affected how and when hydrothermal vents in the area were distributed.
"The photomosaic of images is a new tool for studying mid-ocean ridge processes," he said. "It's still a frontier science, so there are a lot of questions we're going to have to answer."
Mitchell hopes to pursue similar ocean-mapping projects in his future career, which includes plans to study for a Ph.D. in oceanography. He is especially interested in using mapping to study seafloor morphology and dynamics at the boundaries of Earth's tectonic plates, and believes that similar techniques could be used to study marine geohazards affecting the offshore oil and gas industries.
Mitchell said his experience as an Summer Student Fellow has helped him to learn more about his chosen field. "I was reading a book the other day," he said, "and the author just walked into my office with my advisor."