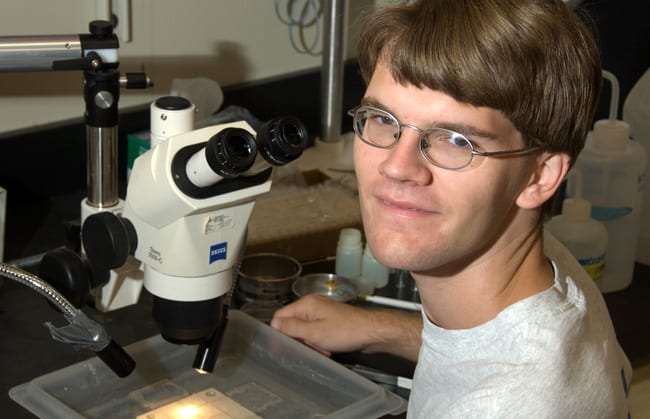 (Photo by Tom Kleindinst, Woods Hole Oceanographic Institution)
Gar Secrist
Life at hydrothermal vents
|
Gar Secrist says that he spent his summer at Woods Hole Oceanographic Institution (WHOI) working on "sandwiches." His weren't ordered in from a deli, but rather retrieved from the seafloor. One look at the tubeworm-encrusted plastic devices he studied—called "sandwiches" and used to collect organisms from seafloor hydrothermal vents—would distract even the most determined of appetites.
Secrist, an ecological biologist, worked with WHOI biologist Lauren Mullineaux, who was a Summer Student Fellow herself as an undergraduate. Her laboratory collected more than 30 sandwiches from P-Vent on the East Pacific Rise mid-ocean ridge. Secrist's task was to study and count the variety of creatures on the sandwiches through a microscope.
With this data, scientists hope to gain a better understanding about how animal populations recolonize hydrothermal vents after seafloor communities are wiped out by volcanic eruptions. Secrist also compared data on the temperatures and sulfide levels in fluids spewing from the vents to see whether certain organisms may prefer certain vent chemistries.
Before this summer, Secrist had been to sea with WHOI's neighbor, Sea Education Association, which introduced him to oceanography and marine ecology. Secrist credits this summer's work with granting him a new enthusiasm for marine science and the new frontiers being explored in oceanography at WHOI.
"I'm seriously considering a future in marine biology now," said Secrist. "With this project I've had more independence than in other labs. I've been able to look at data and figure out for myself what I'm interested in studying, which has been beneficial."
Secrist graduated in May with a biology degree from Maryville College, located near his home of Knoxville, Tenn. He plans to spend this fall working at the Smithsonian Environmental Research Center's Marine Invasions Research Lab in California before applying to graduate schools in biology. He plays the cello and is learning the piano, enjoys hiking and camping, and exploring the Woods Hole area and other parts of the Northeast.