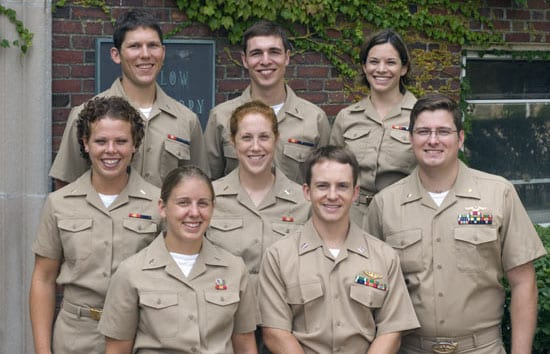 An Officer and a Graduate Student
Long-standing MIT/WHOI program offers master's degrees to naval officers
Six hundred eighty-two students have earned master's and doctoral degrees since the MIT/WHOI Joint Program in Oceanography/Applied Ocean Science and Engineering began in 1968. After shaking hands and accepting their diplomas, 61 of them took off their academic robes and put their Navy uniforms back on. Nine more will do so in the next two years.
Through a special "memorandum of understanding" between the U.S. Navy and the MIT/WHOI Joint Program, several naval officers enroll each year for a 27-month mission into the oceanographic community. Before arriving in Woods Hole, each officer must run a gauntlet of two evaluation committees (naval and academic). A rare few are accepted.
"It's a good investment for the Navy," said Dick Pittenger, a rear admiral, 37-year Navy veteran, and retired vice president of marine operations for WHOI. "There is so much technology and so much need to understand the ocean environment. The Navy trains sailors, but this program educates them."
Since World War II, WHOI and MIT have had long-standing relationships with the Navy, training officers and developing technologies that helped save lives and win battles. The Joint Program has always allowed a few officers to apply and enroll, but the relationship was not formalized until the 1980s.
Forging the connection
Then-Secretary of the Navy John Lehman thought the Navy would be reinvigorated by having its officers learn more about oceanography. Together with Adm. James Watkins, chief of naval operations, Lehman announced a Navy initiative that included new ships for the academic research fleet (WHOI received Knorr and Atlantis), the establishment of Navy-funded research chairs, and formalized educational arrangements with several non-military institutions.
Former WHOI scientist Bob Ballard, himself a former Navy officer, was "a prime mover" in creating the WHOI-Navy program, Lehman said. "The program was hatched at Martha's Vineyard over the 4th of July in 1984 as part of a brainstorming session with Bob that I organized to put together a group of Navy initiatives in oceanography. We then discussed the concept of the master's program with Dr. John Steele, then director of Woods Hole, on July 10, 1984, and Bob and Dr. Steele ran with it and made it happen. I returned to Woods Hole the following year on July 1 to present Bob the first Secretary of the Navy Research Chair."
Arthur Baggeroer, then-director of the Joint Program, Charles Hollister, WHOI dean of graduate studies, and Adm. Rick Seesholtz, oceanographer of the Navy also play roles. Their 1984 proposal to admit at least three Navy officers to the program each year was met with skepticism and some resistance in the Woods Hole community. Today, the students are key contributors to research, particularly in the WHOI Department of Applied Ocean Physics and Engineering.
Beyond the user's manual
"I get the best ocean engineering degree in the world," said Lt. Cmdr. Carl Hartsfield, the senior officer among the current students. "My MIT advisor, Arthur Baggeroer, is a trusted technical advisor to the chief of naval operations and other senior admirals, and a developer of the sonar improvements that put the hunt back in U.S. Navy submarines. My WHOI advisor, Chris Von Alt, developed REMUS, the first operationally deployed Navy autonomous underwater vehicle (AUV). I have been neck-deep in autonomous submersible design theory, up to my arms in their associated electronics, and deployed to do WHOI AUV operations in the deep ocean. Where else could I do that?"
"As the Navy becomes ever more reliant on cutting-edge technology," added Lt. Ben Jones, "it needs operators (for instance, pilots) and commanding officers who have an understanding beyond the user's manual level of knowledge on the gear we hunt the enemy with. In a program like this, a naval officer can learn about new technology and applications, as well as the physical, biological, and chemical details of the marine environment we work in."
Give and take
"Officers work side by side with very smart colleagues at MIT, with its diverse subject offerings, and at WHOI, with its special knowledge and access to the oceans," said Baggeroer, now Ford Professor of Engineering and Secretary of the Navy/Chief of Naval Operations Chair for Ocean Science at MIT.
The participation of Navy officers also "adds diversity to the student body," said John Farrington, WHOI dean and vice president for academic programs. "They bring a different perspective on how the ocean works. They also have different goals in life, and they are quite focused because they have a limited time here."
Civilian students and scientists grow to better understand their military counterparts, and they form intellectual and professional bonds that can last a lifetime.
"On a WHOI expedition last summer, I suggested a submarine trick-of-the-trade," said Hartsfield. "We gained 20 decibels of signal and prevented a large-scale halt in operations. It is this give-and-take interaction between the renowned scientist and the professional naval officer that makes this program so irreplaceable."