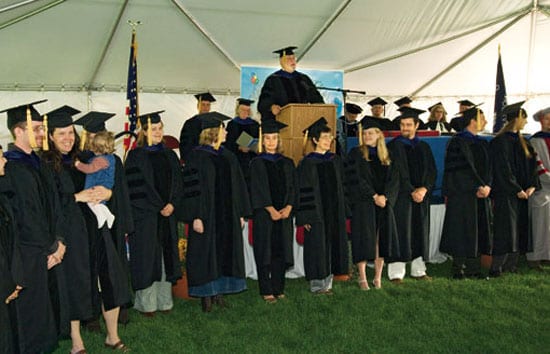 A Touchstone for Marine Chemists and Students Retires
John Farrington was celebrated by scientists and future scientists
Passionate about science, education, and the welfare of his colleagues. A quiet champion for diversity—of gender, race, nationality, and intellectual approach—in oceanography. Colleagues and friends invoked such phrases to describe John Farrington, chemical oceanographer and longtime dean and vice president for Academic Programs at Woods Hole Oceanographic Institution. In November 2005, he stepped aside from his academic post after 15 years, and he will retire as a senior scientist in February 2006 after 34 years at the Institution.
During his tenure as dean, 366 students in the MIT/WHOI Joint Program in Oceanography/Applied Ocean Science and Engineering were awarded graduate degrees, and the Institution recruited and hosted 198 postdoctoral fellows and 476 summer student fellows.
Farrington also became the first WHOI researcher to receive the B.H. Ketchum Award, given by  a panel of colleagues to a scientist who demonstrates innovative approaches to coastal research, leadership in the scientific community, and attention to the effects of marine pollution on the coastal environment and society.
A native of New Bedford, Mass., Farrington joined WHOI in 1971 with a postdoctoral award in the laboratory of organic geochemist Max Blumer. A one-year appointment turned into a full-time job, and he rose through the ranks of the Marine Chemistry and Geochemistry Department. Within 10 years, colleagues elevated him to the rank of senior scientist.
He established himself as a leader in the study of organic geochemistry in the ocean, conducting pioneering research on petroleum in the marine environment, on the mobility of contaminants such as polychlorinated biphenyls (PCBs) in seafloor sediments, and on the role of natural organic chemicals in the ocean. Along the way, he participated in 18 research cruises (eight as chief scientist), authored 117 refereed scientific papers, and contributed to more than 30 policy, education, or public information documents.
From 1981 to 1986, he served as the director of WHOI's Rinehart Coastal Research Center, but his leadership has extended well beyond Woods Hole. He has been a trustee of Bermuda Biological Station for Research since 1991, and he served on numerous national and international committees. For his service to the National Research Council, he was awarded the honorary title of national associate of the National Academy of Sciences.
Farrington became associate director for education and dean of graduate studies in 1990 and vice president for Academic Programs in 2002. During his tenure, Farrington led the effort to have WHOI's Academic Programs accredited, and he was a tireless advocate for students inside and outside the Institution, particularly for young women entering science. He is also credited with expanding and strengthening the postdoctoral program.
"I have stayed at WHOI all these years because of my colleagues on the scientific and technical staff; the spirit of access to the sea; the employees who provide the support that enables scientists and engineers to carry out research ideas; the interactions with world-class students and postdocs; and the private support and advice of the trustees and corporators that enable freedom to pursue innovative ideas," Farrington said.
In celebration of his research, colleagues and protégés, led by Associate Scientist Chris Reddy and Assistant Scientist Liz Kujawinski, organized a Nov. 8 symposium on "Advances in Coastal Organic Biogeochemistry." The program included James Quinn, emeritus professor from the University of Rhode Island and Farrington's mentor, and 10 speakers from as far away as Alaska and Japan.
"John's most important teaching occurred simply in the way that he lived his life," wrote Jeff Parkin, a one-time student in Farrington's lab and now a middle school counselor. "He would always seem to make time for you, no matter how busy his schedule. He could find humor and patience in trying situations. He treated your most modest contribution as something significant, and he so deeply cared for his students."
Financial support for the symposium on biogeochemistry was provided by the WHOI Director of Research, the Coastal Ocean Institute, and the Department of Marine Chemistry & Geochemistry.