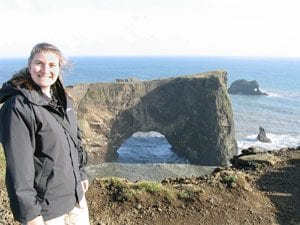 Sara Pratt's love for both marine science and magazines seems to have established itself at an early age.
After studying geology at the University of Pennsylvania, with a focus
on marine and coastal geology, she received a summer fellowship to work
at the U.S. Geological Survey in Woods Hole, Mass. At the time, her
mother reminded her that when Pratt was a child, she had vowed to go one day to Woods Hole to study
the oceans—after reading about the
newly discovered hydrothermal vents on the East Pacific Rise in
National Geographic magazine.
After her fellowship at USGS ended, she worked in both research and
communications jobs in Woods Hole, including a summer-long stint at the
Marine Biological Laboratory's Arctic field station, before she
enrolled in the Earth and Environmental Science Journalism program at
Columbia University.
For her dual master's degrees in environmental science and in
jounalism, she researched the use of ancient desert plants preserved in
packrat middens as a proxy for paleo-atmospheric carbon dioxide
concentrations at Lamont-Doherty Earth Observatory, and
she investigated the impact of Hudson River PCBs on urban subsistence
fishing at the Columbia Jouranlism School, where she concentrated in
magazine writing.
She has edited a series of children's science textbooks and has written
for Discover, Geotimes, and Yankee magazines, where she recently was
appointed assistant editor. Although she now lives in the woods of
New Hampshire, she returns to and writes about the ocean as often as
she can and continues to subscribe to too many magazines.
Ask people to name some animals—any animals—and they will give you a long list. But…
In the late 1930s, lobstermen in Rhode Island began to notice strange black spots on…