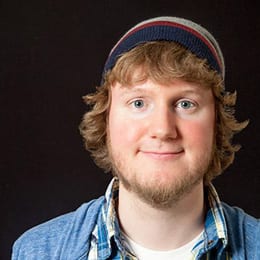 A designer for more than ten years, Eric has worked extensively in publishing, advertising, marketing, and the Web. His resume includes work on regional and national magazines; display, Web and installation projects for an historic performing arts center; and design and art direction for an internationally recognized leader in economic research. He graduated Cum Laude with a BFA in Graphic Design from UMass Lowell.
He enjoys helping people from a variety of backgrounds articulate their ideas and achieve better visual communication. At WHOI, Eric designs Oceanus Magazine in print, maintains the Oceanus website, and creates illustrations, interactive content, and other products that help scientists convey the challenges and excitement of their research.
Eric is a father, a musician with eclectic tastes and a large assortment of instruments (some of which he plays moderately well), and an outdoorsman who enjoys trying to keep up with his very energetic dog, Lola.
Eric works for WHOI Graphic Services and is available for projects for WHOI employees.
WHOI engineers are developing a new kind of lobster trap buoy that could help keep whales from…