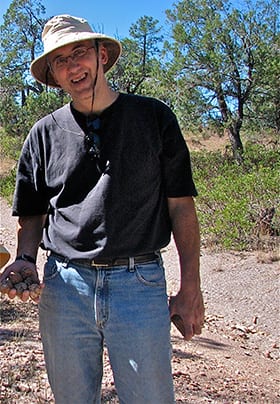 Dave Pacchioli spent most of his youth either perched in trees or lying on his bedroom floor, working his way through the World Book encyclopedia.
He earned degrees in journalism and political science from Penn State University at a time when computers still ran punch cards and all beer was pale. For two years after graduation he worked in an engineering laboratory that tests medical devices for hospitals.
Not really believing he could ever earn a living as a writer, he thought next to try to earn one as a reader, enrolling in a graduate program in English literature. One summer at large in Italy cured him of this bookish ambition, however, and soon after a science writer was born.
While working for many years as a science editor at Penn State, he has written as a freelancer for Discover, Runners World, Pennsylvania Heritage, and numerous university magazines, on topics ranging from hydraulic fracturing to the intersex pigs of Vanuatu. He has also edited two popular books on Obsessive Compulsive Disorder. His professional exploits have included crashing a Shuttle simulator at Johnson Space Center in Houston, rescuing sea turtles in Trinidad, visiting logging camps in the Brazilian Amazon, and writing dispatches on the Mediterranean diet from the hill towns of his ancestral Abruzzo.
He lives with his wife and son in State College, Penn., where when not at his desk or rockhounding with his son he spends his time cooking, eating, splitting firewood, and running long distances ever more slowly.
» English version 福島原発から来た放射性物質が海洋生態系でどのように移動するかを知るには、微小プランクトンの生態を把握することである。しかし、福島原発事故を象徴するようになった巨大生物がいる。太平洋クロマグロである。 太平洋クロマグロは、世界の食卓で珍重される魚のひとつである。最高級すし食材としての魅力を持つクロマグロは、回遊魚でもある。日本とフィリピンの沖合で産卵し、幼魚のうちに4か月かけて太平洋9,600kmを横断し、米国カリフォルニア州沖合の餌の豊富な海域で育つ。数年後、成長して成熟すると、今度は自身が産卵するため太平洋を引き返していく。 海洋生物の放射性物質の取込みとマグロの回遊パターン調査の専門家であるストーニーブルック大学のニコラス・フィッシャー教授とスタンフォード大学ホプキンス海洋研究所の大学院博士課程の学生ダニエル・マディガンは、2011年夏にカリフォルニア沖で水揚げされる若いクロマグロが、福島沖の汚染海域で孵化後の日々を過ごした可能性が高いことを知っていた。それらのクロマグロは、遠く離れた2つの大陸の間で放射性物質を運んだのだろうか。 それを確かめるため、フィッシャーとマディガンは、カリフォルニア州サンディエゴ沖で2011年8月にスポーツフィッシング愛好者が釣り上げたマグロから組織試料を採取し、フィッシャーの研究室で分析した。「分析したクロマグロのすべて(15匹中15匹)で、セシウム134とセシウム137の両方が見つかったのです」。これは福島第一原発事故からの汚染を示すまぎれもない証拠である、とフィッシャーは、東京の「海洋放射能汚染に関する国際シンポジウム」で報告した。 しかし、彼らが測定した放射能レベルは非常に低かった。サンディエゴ沖で釣れたクロマグロは、両方の放射性物質からの総セシウム濃度が1kg当り10ベクレルと、カリウム40の自然放射線濃度をわずか3%上回っただけで、日米政府が定める安全な消費レベルよりははるかに低かった。 回遊するマグロが、取り込んだ全セシウムを太平洋横断中に1日2%失っていたと推定し、さらに、太平洋横断中に冷戦時代の原爆実験の名残であるセシウム137を取り込んでいたと推定して、さかのぼって計算を行い、フィッシャーらは 、マグロは日本近海を出発したころには、体内濃度が測定値より15倍高い1kgあたり約150ベクレルであった可能性が高い、とした。 彼らは、カリフォルニア沖の定住魚であり太平洋を回遊しないキハダマグロからも試料を採取し、クロマグロで測定されたセシウムが海流または大気によって運ばれてきたものだという可能性を否定した。キハダマグロにみられたのはバックグラウンドレベルのセシウム137だけで、半減期の短いセシウム134は見つからなかったからである。 フィッシャーとマディガンが2012年5月下旬に発表したこの結果は、すさまじい反響を呼んだ。フィッシャーは無数のインタビューに応じ、テレビ番組にも出て測定結果を説明した。 人々の根拠のない放射能への不安に対処するため、フィッシャーとフランス人科学者グループは、これらのクロマグロを食べた人が取り込む放射線量(0.008マイクロシーベルト)を算定し、バナナを食べてその自然なカリウムから取り込む放射線量(0.1マイクロシーベルト)、歯科用X線撮影から受ける線量(5マイクロシーベルト)、大陸横断飛行で受ける線量(40マイクロシーベルト)と比較した。「クロマグロについては、放射能より含有水銀の方がむしろ心配です」と彼は言う。 2012年と2013年にクロマグロの放射能を分析するにあたり、フィッシャーは、それらのクロマグロが2011年時点の幼魚とは異なり、汚染水域で1年間は過ごした後であろうこと、そしてそのセシウム濃度がはるかに高まっている可能性があることを認めた。一方で、餌場となった水域のセシウム濃度が比較的低かったために低下した可能性もあるという。マディガン、フィッシャー、そしてゾフィア・バウマン博士による最近の報告によると、2012年にサンディエゴ沖で水揚げされたクロマグロには、2011年のマグロから検出された値の半分未満しか放射性セシウムが含まれておらず、マグロ組織に含まれる放射性セシウム濃度が実際に低下していたことが示された。 しかし、フィッシャーによると、クロマグロだけでなく、サメ、海鳥、アカウミガメなど他の大型回遊生物や渡り鳥の固有の回遊・渡りパターンを追跡する上で、福島原発由来の放射性核種が利用できると考えられる点にある。回遊・渡りパターンのタイミングと経路に対して理解が深まれば、漁場を管理し、絶滅危惧種の保護戦略をより効果的に策定する上で役立つはずである。…