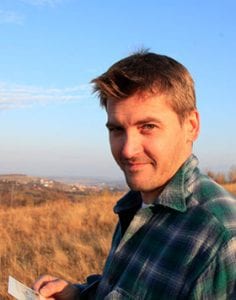 Daniel Cojanu is a director of photography and editor with diverse experience in feature film, documentary, commercial and television production. After cutting his teeth as a news cameraman in post-communist Romania's TV broadcast industry, he attended the National University of Theater & Film and the BBC School for Broadcast Journalism in Bucharest.
Cojanu has worked as a camera operator and cinematographer on various international film productions, as well as television series, short films, and commercials broadcast in Europe and the United States.
After moving to Cape Cod in 2008, Cojanu and his wife, Elise Hugus, co-founded UnderCurrent Productions, which has produced several videos for the Woods Hole Oceanographic Institution.
When not framing and editing fabulous shots, Cojanu can be found playing basketball, gardening, or teaching black-and-white photography; when the water temperatures dip below 50, he is either surfing, back-country skiing, or fishing for striped bass.
How do you design a tag that can attach to a soft-bodied swimming animal and…
WHOI's new research vessel Niel Armstrong is equipped with an EK80 broadband acoustic echo sounder. Using a…
The continental shelfbreak in the waters off New England is an area where a spectacular…
A towed underwater vehicle equipped with cameras, sonar, and sensors paints vivid portraits of life…
WHOI scientists create a robotic bloodhound to track and watch sea turtles in their inaccessible…
As harmful algal blooms are becoming more frequent and severe worldwide, researchers in the lab…
Oceanographers are always looking for cost-effective vehicles to help them explore risky regions. Scientists at…
Scientists at Woods Hole Oceanographic Institution share their field-tested experience, training graduate students on methods…
The rise in carbon dioxide in the ocean from fossil-fuel burning may have insidious impacts…
Five years before we landed a man on the moon, a stubby submersible was built…
A mesocosm is an ecosystem in miniature, providing a useful middle ground between an indoor…
In 2010, an experiment led by physical oceanographer Ruth Curry put six subsurface moorings on…