Enlarge Image

Graduate students Jinbo Wang (left) and Evgeny Logvinov conduct an experiment using dye to examine flow patterns in a rotating tank simulating the ocean. (Photo by Peter Sugimura,WHOI)

Related Links
WHOI has been reaccredited as a degree-granting institution by the organization responsible for accrediting New England colleges and universities.
The Commission on Institutions of Higher Education of the New England Association of Schools and Colleges (NEASC) accredited WHOI in its own right—as separate from MIT, its partner institution in the Joint Program—and with no review scheduled for 10 years instead of the normal five.
In the official letter of accreditation, NEASC Chair Judith R. Gordon commended WHOI for "its clear mission, comprehensive planning processes, exceptionally well-qualified student body, dedicated and highly competent faculty, and the unique repository of oceanographic legacy data maintained by the library," and applauded steps WHOI has taken to address gender and diversity issues.
The accreditation culminates an intensive process that includes a self-study, an on-site evaluation, and a formal review. Judith McDowell, associate dean of academic programs at the time, led the self-study and coordinated the accreditation process, which began during John Farrington's tenure as dean and continued after the appointment of James Yoder to that position. Eighteen scientific and administrative staff members from WHOI departments, the Academic Programs Office, and the MBL/WHOI library, served on the self-study committee.
Dean Yoder said the outcome "shows high regard by the commission for WHOI's education programs, for the MBL/WHOI library, and for the Institution's own strong support for its education mission."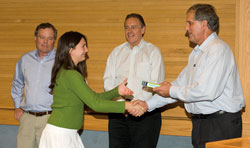 Hail to the latest MIT/WHOI graduates
WHOI honored and celebrated recent graduates of the MIT/WHOI Joint Program in Oceanography with an enthusiastic graduate reception in Clark Laboratory in early June, attended by previous and current graduates, friends and parents, and (in some cases) children.

Among the students awarded degrees in September 2006, February 2007, and June 2007 were 23 doctoral recipients and 9 mas-ter's recipients, from all scientific departments. Two students received special recognition: Joy Lapseritis (Ph.D., biology) received the George P. Panteleyev award, given for committment to improving the graduate experience at WHOI, and Gregory Dietzen received the Richard F. Pittenger Fellowship given annually to a U.S. naval officer in the Joint Program (see below).

An unusual feature of this year's graduating class was WHOI's first "legacy" student—Diane Poehls Adams, who earned a Ph.D. in biology. Her father graduated from the MIT/WHOI Joint Program in 1976 with a Ph.D. in marine geology and geophysics, and her mother worked at WHOI as a research assistant. During graduation exercises in the spring (left), Adams receives her diploma from Dean Jim Yoder, as acting WHOI President and Director Jim Luyten (center), and Associate Dean Jim Price look on. Adams began a position at the National Instututes of Health this fall.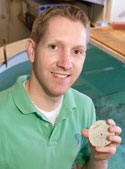 Pittenger Fellow studies seashells on the seafloor
Greg Dietzen, a Navy ensign studying how sound waves change when they reflect and scatter off sand dollars and other seashells on the seafloor, became the third MIT/WHOI Joint Program student to receive a Pittenger Fellowship.

The fellowship honors Richard Pittenger, former WHOI vice president of marine operations. It has been given annually since 2004 to a U.S. naval officer completing a degree in the graduate program.

Dietzen, who studied mathematics at the U.S. Naval Academy in Annapolis, said his WHOI advisors Tim Stanton and Andone Lavery introduced him to the field of undersea sound propagation. Sound can travel long distances in the open ocean, and acoustic signals are used for a variety of reasons, from tracking submarines to controlling robotic oceanographic instruments. Researchers want to understand how these sound signals change when they encounter waves, rocks, and even marine life—from whales to sand dollars.

Dietzen said that after he completes the Joint Program he expects to return to his native California to serve as an officer on a San Diego-based Navy destroyer. His career plans include work in the engineering department of an aircraft carrier.

Dietzen received the award at a ceremony at WHOI in June. Past recipients were Ensign Allison M. Berg (2004) and Ensign Colleen M. (Maloney) Bowers (2005).


Posted: September 30, 2007