First Lab Task
Samples are given a code identification, written on the sample with waterproof ink.
example: 010913FWC-SS
code meaning:
prep. date '01 = year
09 = month
13 = day
FW = Fastweld epoxy
C = air cure control sample
SS = stainless steel
epoxy codes
FW = Fastweld
88 = Epoxo88
911 = Bio-Fix 911
3070 = Epoxy 10-3070
FS = FastSteel
RIQ = Repairitquik
cure condition codes
C = air cure control sample
REF = refrigerated sea water
SEA = outdoors sea water
material
OW = oak wood
SS = stainless steel (non-magnetic)
CS = carbon steel (magnetic)
AH = heavy aluminum sheet
AL = light aluminum sheet
There are three types of tests that will be performed by Prof. Ucci's students: tension, peel, and compression. Tension tests will be done on SS, CS, AH. Compression test will be done on OW. Peel test will be done on AL.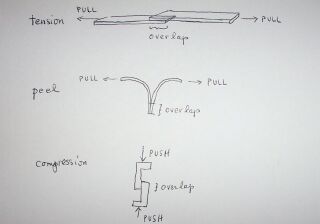 Wash and scrub the metal samples to remove grease and dirt. Use Scotch-BriteTM soap pads. Dry metal samples carefully with paper towels and touch them only with gloved hands.
Make a sketch of each sample, as you intend to lay it out and epoxy it. Measure and mark the overlap area with pencil on the metal. Make a square overlap area. If the sample is 2" wide, the overlap will be 2"X2"; if the sample is 1.5" wide, the overlap will be 1.5"X1.5". The epoxy has a "pot life" of only a few minutes. Mix up only as much epoxy at one time as you can use in 5 minutes.