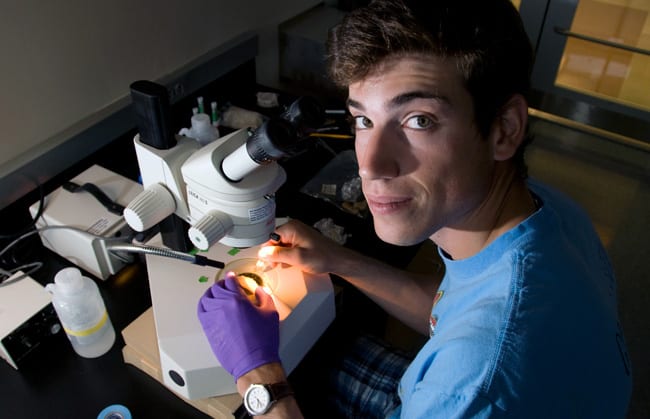 (Photo by Tom Kleindinst, Woods Hole Oceanographic Institution)
Willy Goldsmith
Basking shark migration
|
Willy Goldsmith is a fish guy. At home in Boston and Gloucester, Mass., he is an avid lifelong fisherman. He also works in the ichthyology collections at Harvard University, where he is a senior majoring in history and minoring in organismic and evolutionary biology. He has written about his fishing experiences since he was 16, for magazines such as The Fisherman, On The Water, and Salt Water Sportsman. His avocation became a serious scholarly pursuit at WHOI this summer, where Goldsmith studied basking shark migrations in Simon Thorrold's fish ecology lab.
"I've always liked fisheries research and working at the ichthyology collection, and working in Dr. Thorrold's lab was a chance to make that interest an academic focus," Goldsmith said.
Basking sharks—the world's second-largest fish—are a pelagic species whose habits have long eluded scientists. A recent study of basking sharks tagged off Cape Cod by biologist Greg Skomal of the Massachusetts Division of Marine Fisheries revealed for the first time that they can undertake trans-equatorial migrations through tropical waters, traveling at depths of 200 to 1,000 meters to avoid warm surface temperatures. This finding indicates that the world's basking shark populations, thought to be restricted to temperate oceans, may in fact interbreed.
To discover more about the species' migration patterns, Goldsmith studied raw data recorded by a tag from a 20-foot female basking shark that died and washed up in Newport, R.I. During its deployment from June to September 2005, the tag recorded light levels, water temperatures, and depths every 30 seconds as the shark swam. Goldsmith used the data to reconstruct the shark's diving patterns as well as to refine methods for locating a shark's geographical position from tag data. Goldsmith hopes that knowledge of this individual shark's diving behavior and migratory pathway can lead to new conservation efforts to protect the vulnerable species.
Beyond research and fishing, Goldsmith managed to find time to play on two local softball teams, sail, bike, and learn how to cook—local fish, of course—alongside his housemates at the Barn. Remarkably, while on a fishing trip in Cape Cod Bay this summer, Goldsmith encountered one of his study subjects.
"A 20-foot (basking) shark came right up to us and collided with our boat," he recalled.
Goldsmith is considering working in fisheries management, as well as studying biology, after graduation.