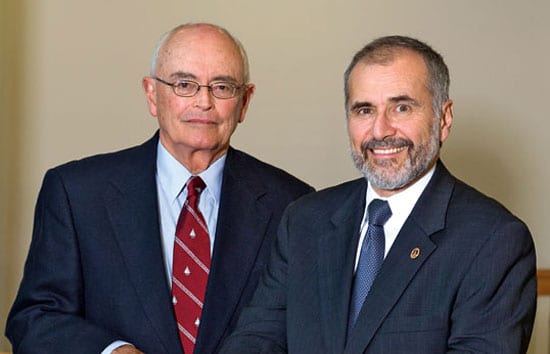 WHOI President and Director Robert Gagosian Steps Down
James Luyten, executive vice president, becomes acting president & director
Robert B. Gagosian announced June 5 that he plans to step down as president and director of Woods Hole Oceanographic Institution, a position he has held for 12 years.
Effective July 17, James R. Luyten, executive vice president and former director of research, will become acting president and director. A transition has been in motion for some time, as Luyten, 64, has accepted increasing responsibility over the past year for key issues and challenges facing the institution. Luyten has agreed to serve for the duration of the search for a successor to Gagosian, which is expected to take at least 12 months.
Gagosian cited interest in "moving to a role of broader impact to advance oceanography nationally and internationally." He will assume the title president emeritus.
James Moltz, chairman of the Board of Trustees noted that Gagosian, 61, had achieved his goals, including the creation of the cross-disciplinary Ocean Institutes (Ocean Life, Coastal Ocean, Deep Ocean Exploration, and Ocean and Climate Change); completing a project to redevelop the Quissett campus and construct new laboratories; launching the new coastal research vessel, Tioga; securing funding to replace the 42-year old research submarine, Alvin; and completing 75 percent of the institution's current campaign by raising $150 million.
Stepping in as acting director of research, a position vacated by Luyten's move, is Laurence Madin, director of the Ocean Life Institute, and former chair of the WHOI Biology Department. Madin has worked in marine biology for more than 35 years, coming to WHOI as a postdoctoral scholar in 1974. He intends to maintain his science program, which concentrates on the ecology and behavior of gelatinous, open ocean marine animals. He holds an A.B. degree from University of California Berkeley and a Ph.D. degree from University of California Davis, both in zoology.
Succeeding Madin as director of the Ocean Life Institute (OLI) is Cabell Davis. He came to WHOI as a postdoctoral investigator in the Biology Department in 1982, became a senior scientist in 1999, and was an OLI fellow from 2003 to 2005. Davis combines high-resolution digital holography, in-situ DNA analysis, and autonomous underwater vehicle technology to explore marine plankton population dynamics and distributions.
>Gagosian was appointed director of Woods Hole Oceanographic Institution in 1994, following a career as a marine geochemist that included chair of the WHOI Marine Chemistry and Geochemistry department, six years as WHOI director of research and two as a senior associate director.
He joined WHOI in 1972 as an assistant scientist, studying substances produced by marine organisms and the chemical transformation of these substances as they disperse through the water column to the seafloor. His research led to the discovery that the atmosphere plays an important role in transporting material from the land to the open ocean. He is the author or co-author of some 85 scientific papers and several technical reports. He holds a bachelor's degree in chemistry from the Massachusetts Institute of Technology, and a Ph.D. degree in organic chemistry from Columbia University.
Luyten was appointed director of research in 1994 and executive vice president in 2002. He previously held a series of administrative positions, including chair of the WHOI Physical Oceanography Department. He came to the institution in 1968 as a summer fellow in geophysical fluid dynamics and joined the staff as an assistant scientist in 1971. His area of research is the observation and modeling of ocean currents, including the general circulation of the North Atlantic, the Gulf Stream, and equatorial current systems. He holds an A.B. degree from Reed College in chemistry and physics, and, from Harvard University, a master's degree in physics and a Ph.D. degree in chemical physics.