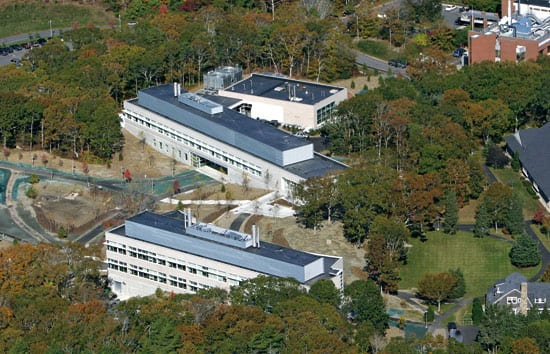 WHOI Opens New Research Facilities
Stanley W. Watson Laboratory and Marine Research Facility provide offices and labs for more than 90 employees
For the first time in 15 years, the Woods Hole Oceanographic Institution has added significant office and laboratory space to its Quissett Campus. This fall, scientists, technical staff, and students started moving into more than 67,000 square feet of new space, a 25 percent increase in the Institution's scientific facilities.
The principal additions are the 35,570-square-foot Stanley W. Watson Laboratory and the 31,950-square-foot Marine Research Facility. Other improvements have also been made on both campuses.
More than 90 members of the Institution staff have moved from labs in the village of Woods Hole and other buildings on the Quissett Campus, and nearly all researchers were in their new labs by the end of 2005. The new buildings will be officially dedicated in spring 2006.
More elbow room, yet more interaction
WHOI has built two new buildings, but that hardly describes how much has changed. Where once there were disparate buildings tucked into the woods, now there is a coherent campus. Outdoors and indoors, there is more sunlight and more common areas for meetings and conversation. The emphasis is on connectedness and interaction.
"It's like a different institution," said ecologist Jesús Pineda, who now has twice as much lab and office space as he did in the basement of the Redfield Building. "There are many places to meet people and have discussions, so we talk more about our projects."
For nearly a decade, WHOI has been attracting specialists in marine mammal and ecological research, but those scientists have been spread out in four different buildings. The new Marine Research Facility houses almost all of these researchers in one setting that is better-suited to their needs—with more room, large freezers, medical-style imaging equipment, and facilities for dissection and necropsies.
"Scientists designed their own spaces from the ground up," said biologist Scott Gallager. "It will let us do things like developing large instruments and optical systems that we couldn't do before."
The Institution's master planning committee also saw a need to pull scientists together in the burgeoning field of biogeochemistry, which investigates the chemical interactions of living things with rocks, sediments, seawater, the seafloor, and hydrothermal vents.
"We are on the verge of understanding how the chemistry and physics of the ocean and the atmosphere influence, and are influenced by, biological processes," said Jim Luyten, WHOI Executive Vice President and Director of Research. "Microbiologists, geochemists, and geologists were spread out in different buildings and on different campuses. We needed to do something to enhance opportunities for interdisciplinary interaction and stimulate work on this leading edge of ocean science."
"My old lab was split between two floors," added Katrina Edwards, a biogeochemist from the Marine Chemistry and Geochemistry Department. "The microscopes and molecular tools were downstairs, the lab and offices were upstairs, and some were in a trailer. We constantly had to run from one place to the other. Now we are all in one lab."
The buildings were designed by Ellenzweig Associates, Inc. of Cambridge, Mass., constructed by Bond Brothers of Everett, Mass., with project management by the Boston office of Skanska USA Building Inc.
A quality campus reflects quality science
The $60 million campus redevelopment project has been underway since 2001, spurred by internal and external reviews of the Institution that found laboratories to be overcrowded and not well suited for larger modern instruments. The research staff has been growing steadily for years, but no science-related construction had been undertaken since the expansion of Clark Laboratory in 1990.
Construction of a ring road—to give the Institution more of a campus-like feel and to make it safer for pedestrians—and other infrastructure improvements began in 2003. The Blake Building in the Village of Woods Hole—home to the Deep Submergence Laboratory—was completely renovated in 2004.
More than $9 million was spent to modernize the physical plant, including new electrical systems to reduce the impact of Cape Cod's frequent power surges and outages; new energy-efficient boiler and chiller systems to provide heat and air conditioning; and new wastewater treatment facilities to clean laboratory and sanitary waste and to reduce the Institution's impact on local marshes and coastal waters.
Excavation and construction of the new buildings began in the spring of 2004, aided by more than $15 million in donations to the Institution's comprehensive fundraising campaign and by low-interest loans through the federal Higher Education Finance Administration.
"Your environment affects how you get your work done, and we wanted to create a more collegial setting," Luyten said. "We now have a world-class campus that reflects the quality of the science being done here."
The redevelopment of WHOI facilities continues as 11,000 square feet are being added to the McLean Laboratory to expand the seafloor sample storage facility and the world-renowned National Ocean Sciences Accelerator Mass Spectrometry facility. And campus planners have just held their first meetings to decide how to renovate the vacated space in the Redfield Laboratory to better accommodate biology researchers in the Village of Woods Hole.
William McKeon, Director of Shore Operations and Technology Transfer for WHOI, would like to thank the Institution's many partners in the campus redevelopment project, including: Ellenzweig Associates; Stephen Stimson Associates; Skanska USA Building Inc.; LeMessurier Consultants Inc.; Holmes and McGrath Inc.; Bard, Rao, and Athanos LLC; Lam Partners Inc.; Nelson Communications; and Bond Brothers Inc.