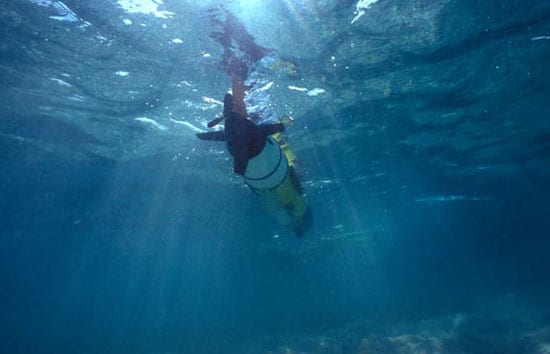 WHOI Creates Office to Encourage Applied Oceanography
Woods Hole Oceanographic Institution has established a new Office for Applied Oceanography to foster applied research supported by sources beyond traditional governmental agencies.
To sustain growth in an era of flat federal funding for basic research, "we seek to enable scientists and engineers at WHOI to pursue a wider array of applied research opportunities by making connections with industry partners, foreign governments, and U.S. government agencies like the Defense Advanced Research Projects Agency, for example, which fund applied research," said Dan Stuermer, vice president for external relations at WHOI.
"Establishing this office is a way to provide an environment and culture in which scientists and engineers can take advantage of those opportunities."
"During the Second World War, the vast majority of (WHOI's) work was defense-related and highly applied—from developing smokescreen methods to protect landing parties to anti-submarine warfare techniques," acting WHOI Director James Luyten said. "We seek to increase our applied work while maintaining our critical mass in basic research. It's not an either-or proposition; basic and applied science can coexist."
Several newly forged projects demonstrate the potential for such coexistence:
WHOI whale expert Peter Tyack and his WHOI colleagues are partnering with Rite Solutions, a company that received a Small Business Innovative Research grant from the Department of Defense to develop a system to minimize risks to marine mammals during naval exercises using sonar.
WHOI geophysicist Jian Lin was awarded a grant from the U.S. Agency for International Development's Office of Foreign Disaster Assistance to study basic earthquake mechanisms in Algeria and to train Algerian researchers in an effort to better assess earthquake risks and mitigate disasters in highly populated northern Algerian cities.
Nautilus Minerals Inc. provided $950,000 to support a research cruise led by WHOI geophysicist Maurice Tivey in July that will use the WHOI-operated underwater vehicles Jason and ABE to explore the biogeochemical phenomena that created gold-rich seafloor deposits 30 miles off Papua New Guinea, to which the company has mining rights.
Teledyne Benthos, an underwater technology firm, plans to build and market an expendable bathyphotometer to measure bioluminescence in the sea, which was developed and patented by WHOI engineer Paul Fucile.
The Office for Applied Oceanography also helps scientists and engineers protect intellectual property, submit patents, and manage technology transfer and licensing.